Christmas and Other Horrors: An Anthology of Solstice Horror (Hardcover)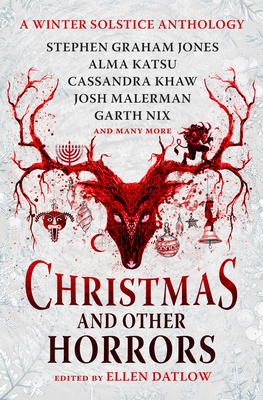 Staff Reviews
---
Just how well do you truly know the myths and legends surrounding this time of year?
I'm not talking about the Jolly Old Elf. We've heard plenty enough of those stories.
No, what I'm talking about are the old stories of the Winter Solstice – tales that retain a foothold upon the darkest corners of the human psyche to this day. Tales that continue to terrify and delight both the wary and unwary.
Christmas and Other Horrors is just that: a delightful anthology of stories that look beyond the trappings of the modern day holiday spirit back to a time when unknown magic and darkness held sway. Some things should not be forgotten.
— Bud
Description
---
Hugo Award winning editor, and horror legend, Ellen Datlow presents this chilling horror anthology of original short stories exploring the endless terrors of winter solstice traditions across the globe, featuring chillers by Tananarive Due, Stephen Graham Jones, Alma Katsu and many more.

The winter solstice is celebrated as a time of joy around the world—yet the long nights also conjure a darker tradition of ghouls, hauntings, and visitations. This anthology of all-new stories invites you to huddle around the fire and revel in the unholy, the dangerous, the horrific aspects of a
time when families and friends come
together—for better and for worse.

From the eerie Austrian Schnabelperchten to the skeletal Welsh Mari Lwyd, by way of ravenous golems, uncanny neighbors, and unwelcome visitors, Christmas and Other Horrors captures the heart and horror of the festive season.

Because the weather outside is frightful, but the fire inside is hungry...

Featuring stories from:

Nadia Bulkin
Terry Dowling
Tananarive Due
Jeffrey Ford
Christopher Golden
Stephen Graham Jones
Glen Hirshberg
Richard Kadrey
Alma Katsu
Cassandra Khaw
John Langan
Josh Malerman
Nick Mamatas
Garth Nix
Benjamin Percy
M. Rickert
Kaaron Warren
About the Author
---
Ellen Datlow has been editing science fiction, fantasy, and horror short fiction for forty years as fiction editor of OMNI Magazine and SCIFICTION. She currently acquires short stories and novellas for Tor.com. In addition, she has edited about one hundred science fiction, fantasy, and horror anthologies, including the annual The Best Horror of the Year series, The Doll Collection, Mad Hatters and March Hares, Echoes: The Saga Anthology of Ghost Stories, and Final Cuts: New Tales of Hollywood Horror and Other Spectacles.

She's won multiple World Fantasy Awards, Locus Awards, Hugo Awards, Bram Stoker Awards, International Horror Guild Awards, Shirley Jackson Awards. Datlow was recipient of the 2007 Karl Edward Wagner Award, given at the British Fantasy Convention for "outstanding contribution to the genre," was honored with the Life Achievement Award by the Horror Writers Association, in acknowledgment of superior achievement over an entire career, and honored with the World Fantasy Life Achievement Award at the 2014 World Fantasy Convention.

She lives in New York.
Praise For…
---
"A sterling collection... Ellen Datlow has – yet again – pulled in many of the very best writers in the field. I'm sure this is henceforth going to be the default stocking filler for any horror fan in your life." HorrorTree


"Datlow, award-winning editor in speculative fiction, comes through once again ... the gut punch of Tananarive Due and Stephen Graham Jones' stories ... cannot be missed." Booklist Starred Review


"New works from some of the horror greats" BookRiot


"Certifiably creepy... undeniably diverse spanning oceans and continents ...[to] make the connection between the so-called happiest time of the year and all manner of sinister goings-on seem as natural as gingerbread and eggnog."-Rue Morgue

Praise for When Things Get Dark:


"This compilation of stories that make the mundane seem terrifying is chilling and uncanny, offering tropes that will be familiar to readers of Jackson's work (witchy women, eerie suburbia) but with unique touches that could come only from these individuals authors." - New York Public Library Best Books 


Other stories are equally memorable, but for me, the outstanding one is Skinder's Veil, a breathtaking blend of fairytale, dream and reality by the incomparable Kelly Link. – The Guardian


A joy for Jackson fans, but no Jackson knowledge is needed to enjoy this anthology. A gem in its own right. – SFX


This anthology is the perfect example of how a vision in the right hands can produce amazing results. Every story captures the essence of what it feels like to read Shirley Jackson's work. – LitReactor best of 2021


This is an absolute treat whether you're a Shirley Jackson nut or not. — Den of Geek best of 2021


Perfect to dip in and out of as the nights draw in – Culturefly


18 outstanding, atmospheric horror shorts from some of the biggest names in the genre ... Any fan of Jackson's oeuvre will delight in this anthology. – Publishers Weekly starred review


In short, another great anthology assembled by Ellen Datlow. – Horror Tree


No one consistently delivers like Datlow does. – Horror DNA


This anthology is classic horror in its appearance, but in the inside has modern sensitivities with standout prose. Shirley Jackson would've been proud – Last Sentence


Compiling a short story anthology that caters to a wide audience's taste is no small feat. Ellen Datlow has done a brilliant job ... Whether you prefer your creepiness level at one or eleven, with a good dose of blood and gore or just with a hint of psychological suspense, you will find a favourite which appeals to your taste in this collection. – Crime Fiction Lover


Unsettling, disquieting, even disorienting... This collection is special. Somewhere, Shirley Jackson is peering over those glasses of hers, one eyebrow raised, a sly smile on her lips – Dave Writes and Draws


Even the most voracious of readers is sure to be swept away by the sheer magnitude of talent on display in When Things Get Dark.
– Phantastiqa


Datlow did it again... every piece was entertaining – Happy Horror Writer


If you are looking for an overview of what the current literary horror world looks like, this is a fantastic example
– California Reading


[A] successful endeavour that shows just how much of an influence Shirley Jackson had with her writing – Zachary Houle


A thrilling encounter with the uncanny courtesy of the some of the best contemporary horror writers. – End of the Words


From haunting to eerie to downright terrifying, there is something for every reader – Mandy McHugh


I thoroughly enjoyed reading this anthology [..] so I have no hesitation in recommending it. – Stephen Bacon


These stories really linger in the back of my mind - like they're creating a space of their own in my memory – Girl Who Reads


Hands-down, my favorite anthology I've ever read. – Quaint and Curious Volumes
Free Media Mail shipping on U.S. orders over $75