We are closed to the public under the stay-at-home order, but we are still offering free Media Mail shipping on eligible items to the continental United States!
2020 Race For The White House: A Grownup Coloring Book (Paperback)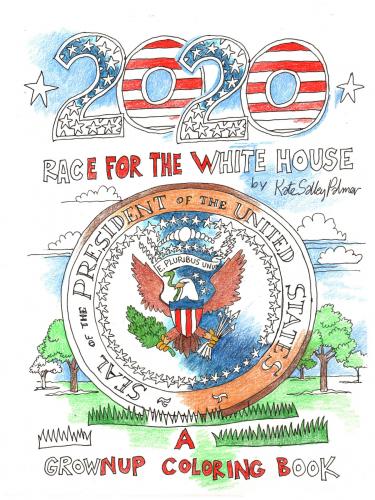 $9.95
Hard to find: allow 24 hours for information
Description
---
This is a fun coloring book containing cartoon/caricatures of all the candidates for the 2020 Presidential campaign from both political parties, along with biographical information for each. An objective in publishing this book is to inform/educate the public about each candidate while providing an entertaining opportunity to color each with your favorite colors.
About the Author
---
Kate Salley Palmer was the first full-time staff editorial cartoonist for a daily newspaper in South Carolina. Throughout her career as a newspaper cartoonist from the mid-70's through the 80's Kate was also syndicated in over 200 newspapers across the US. In the 90's she began writing and illustrating children's picture books, and has had several published by national publishers such as Simon and Schuster, Boyds Mills Press and Albert Whitman. In 1998, Kate and her husband, Jim, a retired Clemson professor, started Warbranch Press, and have since published 10 books for children and two presidential campaign coloring books - the latest being 2020 Race for the White House: A Grownup Coloring Book. Kate continues doing cartoons and caricatures for her syndicate, ARTIZANS, in Canada.
Praise For…
---
"For students in all grades, Kate Salley Palmer has a new book for you, 2020 Race for the White House: A Grownup Coloring Book. You can use this book in so many ways to teach students about our presidential election process.
James Bryan, Educational Consultant, Columbia, SC