Stand Tall, Little Girl: Facing Up to Anorexia (Paperback)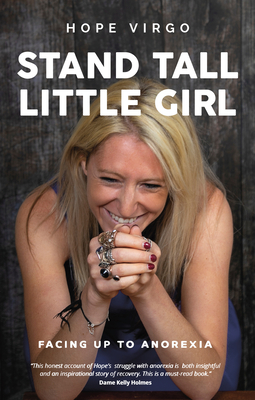 Description
---
Updated and Revised Edition
For four years, Hope Virgo fought a gruelling internal battle, keeping her anorexia hidden from friends and family. Having pushed her health to breaking point, and with her skin turning yellow and her heart failing, it became impossible to hide. Barely recognisable, Hope was admitted to a mental health hospital in 2007.
Twelve years on, Hope has been in recovery from anorexia for over a decade. But it hasn't always been an easy ride, and after a relapse in 2016 where she was refused help for "not being thin enough", she knew she needed to raise awareness about the disease that almost took her life. 
And so, in August 2018, Hope launched the #DumpTheScales campaign, which calls on the government to review their guidance on support for eating disorders. Since then, with relentless campaigning, her petition has gained over 70,000 signatures and counting.
Stand Tall Little Girl is the inspiring account of how Hope fought back from rock bottom, built a healthy life for herself, and used her story to effect real change for others suffering from the same devastating condition.
About the Author
---
Hope Virgo is a leading international and award winning advocate for people with eating disorders. She spearheaded the #DumpTheScales campaign which calls on the government to review the eating disorder guidance delivered by clinicians. In addition, Hope works with young people and employers to deal with the rising tide of mental health issues.
Free Media Mail shipping on U.S. orders over $50
Christmas ordering guidelines
"Ships from warehouse" items to be shipped: Order by Monday, 12/5
"Ships from warehouse" items to be picked-up in store: Order by Monday, 12/12
On hand items: We'll pull items in order of orders received, so keep them coming!