Langston Hughes (Critical Lives) (Paperback)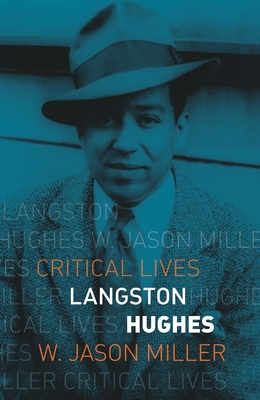 Description
---
As the first black author in America to make his living exclusively by writing, Langston Hughes inspired a generation of writers and activists. One of the pioneers of jazz poetry, Hughes led the Harlem Renaissance, while Martin Luther King, Jr., invoked Hughes's signature metaphor of dreaming in his speeches. In this new biography, W. Jason Miller illuminates Hughes's status as an international literary figure through a compelling look at the relationship between his extraordinary life and his canonical works. Drawing on unpublished letters and manuscripts, Miller addresses Hughes's often ignored contributions to the Civil Rights Movement of the 1960s, as well as his complex and well-guarded sexuality, and repositions him as a writer rather than merely the most beloved African American poet of the twentieth century.
About the Author
---
W. Jason Miller is professor of literature at North Carolina State University. He is the author of Langston Hughes and American Lynching Culture and Origins of the Dream: Hughes's Poetry and King's Rhetoric.
Praise For…
---
"Fifty-two years after his death, the defiance and challenge that Langston Hughes evoked on the page during his long career still retain a sense of immediacy for contemporary audiences. In this book Miller offers valuable new insights into the life of Langston Hughes and compelling readings of selected stories and poems that will be indispensable to students, teachers, as well as new readers of Hughes's prolific body of work."
— Christopher C. De Santis, Illinois State University, editor of "Langston Hughes: A Documentary Volume" and "Fight for Freedom and Other Writings on Civil Rights"
"Miller's biography links the works by Hughes to the many scholarly studies that have emerged in the past thirty years. His bibliography alone is a precious tool. Miller integrates his own examinations of primary sources, and he thereby provides a brilliant map for current and future research. Readers will gain a deeper appreciation for the complexity of Hughes's writing and his relationships—with individuals and with organizations. Indeed, Hughes was 'Not So Simple.'"
— Donna Akiba Sullivan Harper, Fuller E. Callaway Professor of English, Spelman College, and author of "Not So Simple: The 'Simple' Stories by Langston Hughes"
"Langston Hughes, one of the best-known writers of the Harlem Renaissance, remains an endlessly fascinating, charismatic figure. . . . This is a physically attractive book, with heavy, glossy pages and some rarely seen black-and-white images."
— Gay and Lesbian Review