Females (Paperback)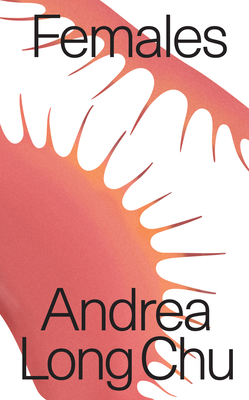 $12.95

Ships from warehouse to store in 3-6 business days
Description
---
Finalist for the Lambda Literary Award, Transgender Nonfiction

This provocative and searing take on the current feminist movement explores the intersections of gender and desire—from "one of the most exciting critics working today" (New York Magazine)

Everyone is female, and everyone hates it.

Females is Andrea Long Chu's genre-defying investigation into sex and lies, desperate artists and reckless politics, the smothering embrace of gender and the punishing force of desire.

Drawing inspiration from a forgotten play by Valerie Solanas—the woman who wrote the SCUM Manifesto and shot Andy Warhol—Chu aims her searing wit and surgical intuition at targets ranging from performance art to psychoanalysis, incels to porn. She even has a few barbs reserved for feminists like herself. Each step of the way, she defends the indefensible claim that femaleness is less a biological state and more a fatal existential condition that afflicts the entire human race—men, women, and everyone else. Or maybe she's just projecting.

A thrilling new voice who has been credited with launching the "second wave" of trans studies, Chu shows readers how to write for your life, baring her innermost self with a morbid sense of humor and a mordant kind of hope.
About the Author
---
Andrea Long Chu is an essayist and critic. Her writing has appeared in n+1, the Boston Review, Bookforum, the Chronicle of Higher Education, and the New York Times. Her work has been translated into several languages. She lives in Brooklyn with her girlfriend and their cat.
Praise For…
---
Featured in The New York Times.

"One of the most exciting critics working today."
—Lila Shapiro, New York Magazine

"[A] sweeping provocation, what fascinates is where it leads … the flash of insight produced by a well-thrown-knife."
—Julian Lucas, Harper's

"Andrea Long Chu is one of the disrupters."
—Stephanie Burt, Atlantic Monthly

"A thrilling provocation, a funny and surprisingly tender memoir, a bold move, a dare. She's our most reliable trickster, and this is the book everyone will be talking about."
—Andrea Lawlor, author of Paul Takes the Form of a Mortal Girl

"Females marks nothing short of a historic cataclysm in public discourse about gender and sexuality. In the grand tradition of the philosophes, Females is crucial not only because of what it is, but for the world of conversations it makes possible. When we talk about transness, when we talk about feminism, when we talk about experimental memoir and the thrilling, unexpected rebirth of the Künstlerroman, there will be a before and after Females."
—Jordy Rosenberg, author of Confessions of the Fox

"Desire deserves a description. So does the gender self-loathing of the 'female' who is, it turns out, 'all of us.' With these theses, Andrea Long Chu inspires thrilled and dark passions because she has them and because she believes in smart and smarting arguments for them. The sentences are alive and veer toward surprise but also toward a tender wish for an easier conventional life for gender."
—Lauren Berlant, author of The Female Complaint

"Chu is a deft critic, adept at sliding across broad swaths of history and material, at conjuring the pithy poke or relatable read."
—Eric Newman, Lit Hub

"A lucid meditation on desire as the force shaping our identities, the paradoxes of liberation politics, and her own gender transition."
—Johanna Fateman, Bookforum

"[A] brief and blazing treatise."
—Thora Siemsen, Nation

"Beneath the veneer of Females' provocation, those indefensible ideas, it is a surprisingly tender book that aims to tend to a universal ache: the frayed knot of selfhood, desire and power through which, Chu argues, we might try to see ourselves and each other more clearly."
—Marissa Lorusso, NPR

"Reading Andrea Long Chu feels a bit like being on the fault line of an earthquake—the ground is undeniably shifting."
—Callie Hitchcock, New Republic

"Astonishing."
—Bryony White, Frieze

"One of Chu's most ambitious and significant pursuits to date … It's always smart, sometimes sincere, and unpredictable about when it will pinch your arm or clutch its nails around your heart."
—Maggie Lang, Vice

"Among our most original thinkers on gender."
—The Week

"A highly provocative, turbulent read."
—Dazed

"Reliably eloquent and provocative."
—Danette Chavez, AV Club

"Juicily transgressive."
—Sophie Kemp, Vogue

"Chu's intellectual rigor is matched by her honesty. It is at once profoundly disconcerting and deeply persuasive."
—Madeleine Monson-Rosen, Women's Review of Books

"Thought-provoking and controversial reading from one of our most astute contemporary minds."
—Hunger

"Performatively edgy, frequently hilarious."
—Eve Tushnet, Commonweal

"Females is a pithy takedown of every orthodoxy around gender you can name. It's also very very funny."
—Sita Balani, Tribune

"There is a satisfying, funhouse-mirror effect to taking logic to its breaking point."
—Elena Comay del Junco, The Point

"Gleefully contrarian."
—The Believer

"Chu built up an internet following with frank essays about trans identity, and she brings the same hybrid of cultural criticism and personal experience to Females … In just ninety-four short pages, Chu manages to show off her quick wit and deep knowledge of everything from pop culture to social history to queer theory."
—Amelia Possanza, The Rumpus

"Every aspect of the volume breaks with scholarly tradition: the book is unconventionally small in size (18 cm); the language is irreverent; the style is a mix of novel, autobiography, and theoretical treatise; and Chu includes personal reflections and confessions alongside popular culture criticism and history. Rather than a cohesive treatment of a singular topic, the book is a collection of related but autonomous confessions that have the power to alter how gender is conceived or, at the very least, and generate conversations that transgress the status quo of gender."
—K. Gentles-Peart, Choice

"Though 'Everyone is female. And everyone hates it' sounds assertive, definite, even simple, it is the opposite. Why use 'female'? It is a word so loaded, so specific to a cultural meaning of sex and/or gender, and yet that stability is rendered inert by the inclusion of 'everyone' into its category. And why do we 'all' hate it? And what is the 'it' of being 'female' that we 'hate'? Answering any of these questions is a delightful impossibility, and to treat Females as a project of clear theoretical argument would be to have misread the text. Like desire's negative structuring, the pleasure of Females is located in its very impossibility, its elusive slip."
—James Lawrence Slattery, AC Review of Books

"I'm certain that Andrea Long Chu's 112-page engagement with Valerie Solanas in Females has more to say about the way we live today than the doorstop biography of Andy Warhol published this year by HarperCollins."
—Andrew Holter, The Quietus

"I was out of breath after finishing this book … Drawing from Valerie Solanas' SCUM Manifesto, Chu revisits Solanas' claim that men are women and women are men in order to critique the sexual landscape today. From performance art to incels and porn, Chu cuts through them with fire and wisdom."
—Bruno Zhu, Elephant ("Standout Artists of 2020")
Free Media Mail shipping on U.S. orders over $50