Adult Jigsaw Puzzle Vincent van Gogh: Bedroom at Arles: 1000-Piece Jigsaw Puzzles (Jigsaw)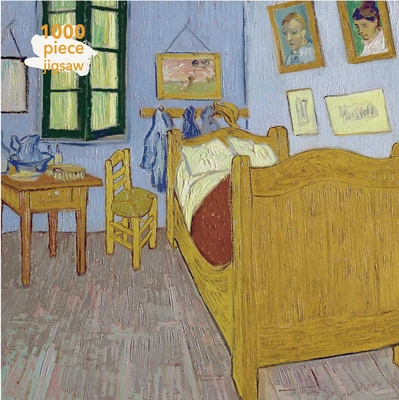 Description
---
1000-pieces. Shrink-wrapped, sturdy box (size 10 x 10 x 2 ins). High quality jigsaw puzzle. Finished Jigsaw size 29 x 20 ins.

Part of an exciting series of sturdy, square-box 1000-piece jigsaw puzzles from Flame Tree, featuring powerful and popular works of art. This jigsaw will satisfy your need for a challenge, featuring Vincent van Gogh's Bedroom at Arles. This 1000 piece jigsaw is intended for adults and children over 13 years. Not suitable for children under 3 years due to small parts. Finished Jigsaw size 735 x 510mm/29 x 20 ins. Now includes an A4 poster for reference.

Vincent van Gogh sought refuge from Paris in February 1888. He set off for Arles to satisfy his yearning to experience the colours of the South. Initially, he took up lodgings at a local hotel but shortly after, he rented the famous Yellow House on Place Lamartine, nestled in between the rail tracks and river on the north side of town. This famous painting depicts his bedroom in the house.
About the Author
---
Designed and developed at Flame Tree Publishing, an independent publisher of nearly 30 years. Flame Tree Studio is our creative hub bringing people, ideas and techniques together to make fine, illustrated books, art calendars and practical stationery with delightful, thoughtful combinations of text and images. Our creative teams work with artists, illustrators, licensors, museums and galleries throughout the world to offer carefully crafted, timeless works of art across many complementary formats. Flame Tree: The Art of Fine Gifts.
Free Media Mail shipping on U.S. orders over $50