Lord of Secrets (The Empty Gods) (Paperback)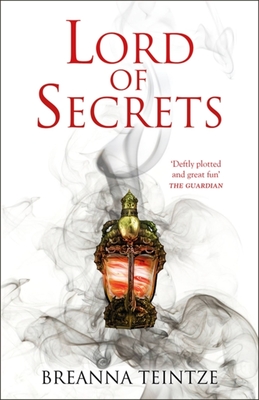 Description
---
'DEFTLY PLOTTED AND GREAT FUN' GUARDIAN


Magic is poison. Secrets are power. Death is . . . complicated.

Outlaw wizard Corcoran Gray has enough problems. He's friendless, penniless and on the run from the tyrannical Mages' Guild - and with the search for his imprisoned grandfather looking hopeless, his situation can't get much worse.

So when a fugitive drops into his lap - literally - and gets them both arrested, it's the last straw - until Gray realises that runaway slave Brix could be the key to his grandfather's release. All he has to do is break out of prison, break into an ancient underground temple and avoid killing himself with his own magic in the process.

In theory, it's simple enough. But as secrets unfold and loyalties shift, Gray discovers something with the power to change the nature of life and death itself. Now Gray must find a way to protect the people he loves, but it could cost him everything, even his soul . . .

With the humour of V.E. Schwab, the scale of Trudi Canavan and the deftness of Naomi Novik, Lord of Secrets is a heartwarming fantasy novel about saving the people you love without destroying the world (or yourself).


'A PERFECT MIX OF TRADITIONAL AND NEW' CHARLIE N. HOLMBERG, AUTHOR OF THE PAPER MAGICIAN

'A FAST-PACED NECROMANTIC ADVENTURE' EMILY TEST, AUTHOR OF SILVER IN THE WOOD

'ALL I WANT IS THE NEXT BOOK, NOW' K.A. DOORE, AUTHOR OF THE PERFECT ASSASSIN
About the Author
---
Breanna Teintze is a registered nurse, who writes (well) and gardens (badly). She lives in Idaho with her husband, where she homeschools her three kids and polishes swords. Her first novel, Lord of Secrets, published by Jo Fletcher Books, was followed by the sequel, Lady of Shadows.
Praise For…
---
A clever, interesting fantasy with complex characters and I would recommend this as a good read—Storgy

A unique and magical book that had me hooked from the first line. I loved everything about this book and I highly recommend!—A Novel Purpose

A straight forward but brilliant story with fantastic characters and a protagonist that I loved—Laura Patricia Rose

After reading this, I felt refreshed and almost like a "faith restored" feeling for fantasy—Moon Kestrel

In a word: great! . . . A dazzling debut!—Life Has a Funny Way

Lord of Secrets is a delightful necromantic romp through a dark and complex world with magic as boundless as it is painful, terrifying undead monstrosities, and secrets layered upon secrets which are so craftfully peeled away just in time for a bone-rattling, conclusion that all I want is the next book, NOW—K. A. Doore, author of The Perfect Assassin

5 out of 5—Dyslexic Reader

A good old fashioned fantasy quest for a magical object and very enjoyable it was too—Mug Full of Books

A special kind of magic - a potion of revenge and redemption, a cocktail of sweet and sour and spicy, a spell of understanding, forgiveness and love, a curse of beginnings and ends—Cover to Cover

A thoroughly refreshing and light-hearted romp of a novel . . . If you want an exuberant and upbeat fantasy, then this is definitely recommended—Birmingham SF Group

An inventive empathetic fantasy novel filled by a host of great characters. The interplay between characters marks the novel as something special. This is a quest novel, where the quest isn't the imperative, lending truth to the idea that it's not the destination but the journey. An absorbing novel from start to finish, I can't wait to see what Teintze does next—GeekDad

Brilliantly witty and at times had me laughing out loud. I will definitely be reading the next in the series . . . This is an amazing debut and because of that I am giving it 5/5 stars. Perfect for fans of Sebatien De Castell's Greatcoats series—Crooks Books

Deftly plotted and great fun—The Guardian

I am thoroughly recommending this book! If you like queer representation, grumpy badass wizards who make clever friends despite themselves, puzzles and traps and riddles and necromancy all tangled up together into a big old ball of deadly fun, then give Lord of Secrets a try—Dear Geek Place

I greatly enjoyed this book and would recommend it—Blue Book Balloon

I loved it! It surprised me many times . . . Gray is relatable, sympathetic, and wholly likeable, and the rest of the cast was endearing. And the magic! It was a perfect mix of traditional and new. A fascinating take, really.—Charlie N. Holmberg, author of The Paper Magician

Rich and satisfying . . . Teintze has concocted a fascinating world, with clever twists and loops to her plotting as well as a range of believable (and deeply likeable) characters—SFX

Lord of Secrets is a fast-paced necromantic adventure. The characters are sharp, the dialogue is funny - and wow, Teintze can really write a monster! From the sadistic priest to the power-crazed wizard, from the delicate horrifying brilliance of her undead creations to the lurking, dreadful, beautiful monster at the heart of an ancient buried temple, I was alarmed and delighted at every turn—Emily Tesh, author of Silver in the Wood
We will be open on Memorial Day from 10 AM until 6 PM.
Free Media Mail shipping on U.S. orders over $50