FREE Media Mail shipping on eligible items! We are open for browsing by appointment from 10am-7pm M-S and 10am-6pm Sundays. Email books@quailridgebooks.com for a reservation. Phones may not be answered due to high volume of calls.
Flash: The Haunting of Barry Allen (Mass Market)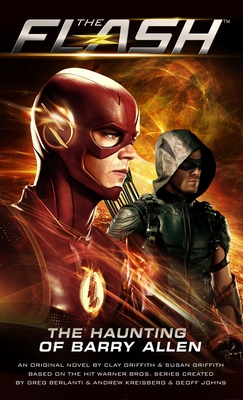 $7.99
Hard to find: allow 24 hours for information
Description
---
An original novel by Clay Griffith & Susan Griffith based on the hit Warner Bros. series created by Greg Berlanti & Andrew Kreisberg & Geoff Johns 

Speeding through Central City, Barry Allen is met with a startling sight—the Flash, older, battered, and badly injured. Before he can speak, the doppelgänger is gone.

Then Barry begins experiencing glitches in his powers—moments that leave him ghostly and immobile in the middle of missions. When a group of his enemies—including Pied Piper, Weather Wizard, and Peekaboo—chooses this time to launch a new assault, the Flash seeks help from his most trusted ally.
Oliver Queen – the Arrow.
About the Author
---
SUSAN and CLAY GRIFFITH are a husband and wife team who have written the original "Vampire Empire" fantasy series for Pyr Books, as well as the tie-in "Crown & Key" series for Random House. They've written numerous short stories for anthologies, some featuring noted genre characters such as Kolchak the Night Stalker and The Phantom, and have scripted comics including The Tick, The Simpsons, and Vincent Price Presents. They are hard-core fans of both the FLASH and ARROW television series.
Praise For…
---
"We had a blast reading it too. One of the best things the authors did was isolate two characters in random chapters. In this way they provided extra value not seen on TV." - Superhero Novels

"a great job of keeping the characters true and as believable as if we were watching an episode of The Flash."- SciFiChic