There's No Bones in Ice Cream: Sylvain Sylvain's Story of the New York Dolls (Paperback)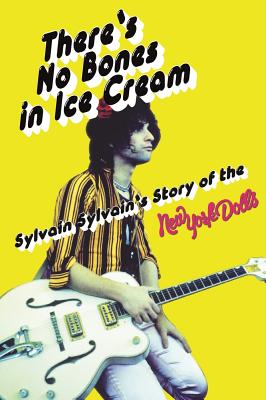 Staff Reviews
---
A simple read from simpler times, when the grit was visible and not yet baked-in. This is a fun biography, one of the better-written rock bios I've read lately. Sylvain's evocation of 70s New York is downright pleasant despite all the quite obvious dangers and corrupted morality. He's certainly the best Dolls biographer so far! These tales of dress-up hard rock seem quite naïve now, and I love it. Of course, everything descends into death and (more) depravity, but the New York Dolls clearly were not the utter monsters that Motley Crue were – more just a bunch of opportunistic, makeup-wearin' loverboys havin' big fun in the rotten Apple, from whence so many great earworms sprung!
— Matt
Description
---
Sylvain Sylvain and The New York Dolls were called many things—glam, proto-punk, hard rock—but are probably best understood as a "dirty rock & roll" band. Combining an aggressively androgynous style with a street-smart New York attitude and campy humor, the New York Dolls ushered in the era of CBGBs, heroin chic, loud guitars, and referential lyrics, which gave rise to Patti Smith, The Ramones, Television, and many more. Fans of the band range from Guns N' Roses to Morrissey, who organized the reformation of the band when he curated Meltdown festival in 2004. Sylvain Sylvain was there from the start, and this is his story. Taking in his early life in New York, the rise, fall and rise-again of the New York Dolls, and all the misadventures between, There's No Bones in Ice Cream is the true story of one of rock's greatest, told in his own authentic voice.
About the Author
---
Sylvain Mizrahi, known as Sylvain Sylvain, is an American rock guitarist, fashion designer, solo artist, and lead guitarist for the New York Dolls.

Dave Thompson is the author of over 150 books, including co-written memoirs with New York Doll Sylvain Sylvain, Motown legends Brian and Eddie Holland (forthcoming), Hawkwind's Nik Turner, the Yardbirds' Jim McCarty, Fairport Convention's Judy Dyble and more.

A columnist for Goldmine magazine, his work has also appeared in Rolling Stone, Alternative Press, Mojo, Record Collector and many other major publications.

He has contributed to music documentaries produced by VH-1, A&E, the BBC and others. Born in the UK, Thompson is now a resident of Delaware, USA.