The Rise of Wolf 8: Witnessing the Triumph of Yellowstone's Underdog (Hardcover)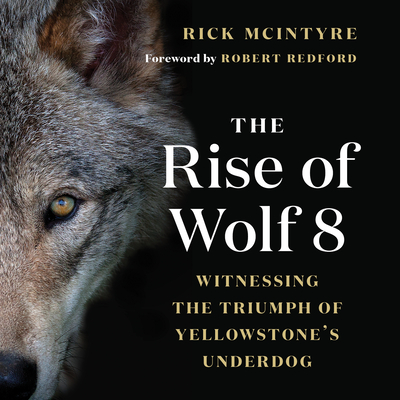 Description
---
"The powerful origin story of one of Yellowstone's greatest and most famous wolves." --Washington Post
" The Rise of Wolf 8] is a goldmine for information on all aspects of wolf behavior and clearly shows they are clever, smart, and emotional beings." --Marc Bekoff, Psychology Today
Yellowstone National Park was once home to an abundance of wild wolves--but park rangers killed the last of their kind in the 1920s. Decades later, the rangers brought them back, with the first wolves arriving from Canada in 1995.
This is the incredible true story of one of those wolves.
Wolf 8 struggles at first--he is smaller than the other pups, and often bullied--but soon he bonds with an alpha female whose mate was shot. An unusually young alpha male, barely a teenager in human years, Wolf 8 rises to the occasion, hunting skillfully, and even defending his family from the wolf who killed his father. But soon he faces a new opponent: his adopted son, who mates with a violent alpha female. Can Wolf 8 protect his valley without harming his prot g ?
Authored by a renowned wolf researcher and gifted storyteller, The Rise of Wolf 8 marks the beginning of The Alpha Wolves of Yellowstone series, which will transform our view of wolves forever.
About the Author
---
RICK MCINTYRE has spent more than fifty years watching wolves in America's national parks, twenty-five of those years in Yellowstone, where he has accumulated over 100,000 wolf sightings and educated the public about the park's most famous wolves. He has spoken about the Yellowstone wolves with 60 Minutes, NPR, and CBC, and he is profiled extensively in Nate Blakeslee's American Wolf and in international publications. He lives in Silver Gate, Montana.ROBERT REDFORD--actor, director, and producer--has been a passionate art and environmental activist since the early 1970s. He has been an advocate for climate change awareness, clean energy, and habitat protection for over forty years.
Free Media Mail shipping on U.S. orders over $75
"Ships from warehouse" books to be shipped: order by Wednesday, 12/6
"Ships from warehouse" books for pickup: order by Tuesday, 12/12