TRUMP MANIFESTED Man & Overman (Paperback)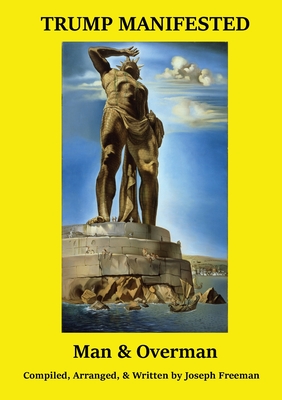 $15.99

Ships from warehouse to store in 3-6 business days
Description
---
TRUMP MANIFESTED: Man and Overman
"He's the great American icon "
Trump: "Hey, why only American?
Why not the world?"
As readers peruse the Contents, they will see that this sagais like no other book written on Donald Trump as its theme unfoldshis character and schemes of how he arrives by sheer will, intelligence, and foresight, from the first rung of his businessascent to the last political rung (the American Presidency) to hisfinal act of discarding the ladder on his way to whereabouts weknow not.
CONTENTS
SECTION I
TRUMP'S QUOTES ON AND BY HIMSELF
REVEAL HIS CHARACTER AND TACTICS
Genius
There's nobody like me. Nobody.
hundreds of character quotes by Trump
describing himself]
Trump's Character and Tactics by
Others and the Author
SECTION II
TRUMP AS AN OVERMAN
-Nietzsche on the overman
SECTION III
TRUMP AS AN HISTORIC NECESSITY
Trump: American Insurgent to World Emperor
Free Media Mail shipping on U.S. orders over $75