Deadeye (Paperback)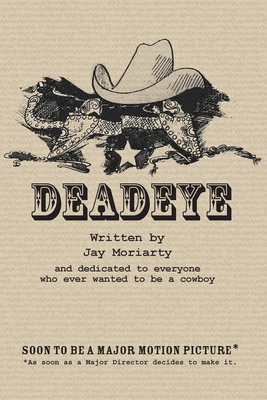 $15.99

Ships from warehouse to store in 3-6 business days
(NOTE: This book cannot be returned and may not be eligible for discounts.)
Description
---
Deadeye - Dedicated to Everyone Who Ever Wanted to be a Cowboy
Includes 21 original illustrations by celebrated artist Stephen Marchesi
When Richie Wentworth was a kid, he dreamed of riding a white horse, having a faithful sidekick, chasing bad guys, fighting for justice, nabbing train robbers, tracking down rustlers, rescuing a girl in a runaway wagon, walking into a saloon and ordering milk, helping the Sheriff, winning a horse race, outdrawing a gunslinger. When he grew up, he made his dreams come true. When Benny Selma was a kid, he had no dreams. When he grew up, he met Deadeye.
In 1950s and 60s America, when cowboy shows flooded the TV airwaves, almost every kid in the country wanted to be a cowboy or cowgirl when they grew up. In time, however, reality intervened and most had to settle for less fulfilling occupations. But Richard Wentworth, a troubled young lawyer who's not happy with his job or his life, realizes the only thing he ever really wanted to be is a cowboy and decides to head west.
"In this book, screenwriter Jay Moriarty has created a timely tale that pays homage to all those iconic cowboy shows that embodied America's core values, with a tip of the Stetson to Don Quixote. If you like Roy Rogers-not to mention The Lone Ranger, Hopalong Cassidy, The Cisco Kid, Annie Oakley, Johnny Mack Brown, Wild Bill Elliot-grab this book and saddle-up for a fast read and a fun ride with Deadeye, the most unlikely modern Everyman to join the list of legendary cowboy heroes."
Hollywood Journal
SOON TO BE A MAJOR MOTION PICTURE**As soon as a Major Director decides to make it.
We will be open on Memorial Day from 10 AM until 6 PM.
Free Media Mail shipping on U.S. orders over $50