World Piece: A Pie Baker's Global Quest for Peace, Love, and Understanding (Paperback)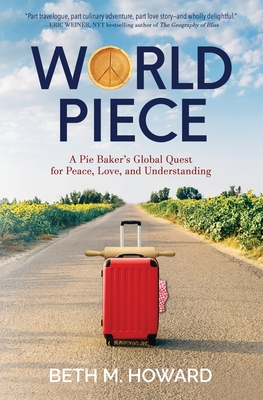 $18.00

Ships from warehouse to store in 3-6 business days
Description
---
CAN PIE REALLY PROMOTE WORLD PEACE?
Beth Howard always dreamed of circumnavigating the planet; not to tick off a list of tourist sites, but to immerse herself in the culture of each country by making pie with local residents. Pie had healed her grief after her husband's death, so why not use it to heal the world and promote peace? Hauling her rolling pin from New Zealand to Australia, Thailand to India, Lebanon to Greece, Switzerland to Germany and Hungary, Howard uses America's iconic comfort food as a means for connecting with people in their homes, kitchens, and caf's. In each region, she offers pie lessons and, in turn, learns about the surprising origins of ingredients and traditional dishes-including pie in its myriad forms. During her demanding three-month journey, she meets charming characters, experiences uncanny coincidences, and finds kindness when she least expects it. She also encounters geopolitical unrest (past and present) that prompts the questions: Why is world peace so elusive? And what can we do to achieve it? She offers some answers in her feisty, often funny, always unflinching voice. Underlying her pie and peace mission is her personal story about overcoming fear, letting go of grief, searching for a new home, and making room for new love. A balanced blend of multi-cultural insight, world history, social commentary, immersive travel, and the comfort of pie, World Piece could be described as Waitress meets Anthony Bourdain: Parts Unknown. Come along for the wild ride as Howard takes the reader on a deeply intimate, delicious, and inspirational global adventure.
About the Author
---
Beth M. Howard is the author of four books, including Making Piece: A Memoir of Love, Loss, and Pie and the cookbook, Ms. American Pie. She has written for The New York Times, Real Simple, and Country Living, among many other publications. She is a regular commentator for Tri States Public Radio in Macomb, Illinois, and has given a TEDx Talk on the healing powers of pie.From 2010 to 2014, she lived in the iconic American Gothic House in Eldon, Iowa, where she ran the Pitchfork Pie Stand. Her story has been featured on CBS This Morning, CNN's Anderson Cooper 360, BBC, NPR, the Hallmark Channel, the History Channel, in the Los Angeles Times, Better Homes & Gardens, and more. She divides her time between Iowa and Los Angeles, and continues to write, bake pie, and advocate for peace. Her website is www.theworldneedsmorepie.com.
Praise For…
---
"A book about pie? Yes, but Beth Howard's delightful and delicious World Piece is much more than that. It is about being scared senseless by the thought of doing something-and doing it anyway. It is about the terrible persistence of grief, the transformative power of travel, and the love of a good dog. It is about leaving home in order to find it. Beth Howard is the Marco Polo of the baking world. With her trusty rolling pin in hand, she circles the globe in search of peace-the absence of war, yes, but also the more elusive peace of mind. She writes with a keen eye and open heart, leavening her tale with dollops of humor. World Piece is part travelogue, part culinary adventure, part love story-and wholly delightful. You don't need to be a baker, or even a pie lover, to enjoy this delicious book. Read it slowly, though, savoring the humanity found on each page."
-Eric Weiner, NYT Bestselling author of The Socrates Express and The Geography of Bliss

"As any pie lover will tell you the secret to a good pie is the balance between crust and filling. The same is true of good books: a delicious tale wrapped in a good narrative storyline. Herein, content and coating meld into a thrilling story with all that we humans love to think about. There is love, humor, drama, fear, and more humor. From Mumbai's Dhobi Ghat open-air laundry, to the most nuanced pie-making instructions ever written, you will be carried along on this bumpy, swerving, exhilarating ride by a wonderful wit and an infectious enthusiasm for pie and life."
-Bill Yosses, Host of Baker's Dozen on HULU, Former White House Pastry Chef, and Author of Desserts for Dummies

"In this brilliant, witty, and wild ride of a story, Howard bakes her way around the world, connecting with humanity to spread goodwill. In short, it's The Kindness Diaries with pie."
-Leon Logothetis, TV Host, Producer, and Bestselling Author of The Kindness Diaries

"Part call-to-action, part memoir, all heart, Howard takes us with her on a whirlwind journey to some of the most challenging spots on the planet. With a raw authenticity similar to Anne Lamott, Howard's zest for life sings on every page."
-Libby Gill, Author of You Unstuck and The Hope-Driven Leader

"Beth Howard's delicious sense of humor, self-awareness, and sensitivity brings alive her personal journey, as it intersects with critical issues facing our planet today. Beth reminds us how world peace starts with small acts of kindness-like offering someone a slice of pie."
-Kathy Eldon, Founder of Creative Visions Foundation
Free Media Mail shipping on U.S. orders over $75
"Ships from warehouse" books to be shipped: order by Wednesday, 12/6
"Ships from warehouse" books for pickup: order by Tuesday, 12/12