Black Boy, Black Boy (Hardcover)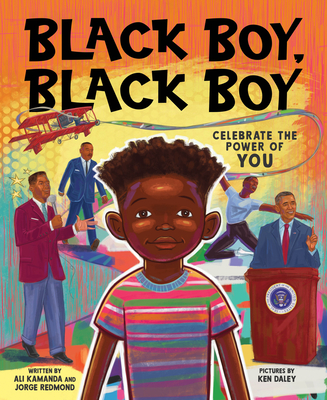 Description
---
Inspire Black boys to imagine all the great things they can do while celebrating remarkable moments from Black history!
Dear boy, Black boy, I believe in you so.
Let's start your story—ready, set, go.
From athlete and activist Colin Kaepernick to musician Sam Cooke, inventor Elijah McCoy and writer Chinua Achebe, there are so many inspirational men in Black history. This lyrical, rhythmic text encourages boys to imagine everything they can be and the great things they can do, drawing on the strength of people throughout history that paved the way for Black boys today.
Black Boy, Black Boy tells today's boys: you have the courage, you are the light. It's a new day! Be inspired and motivated by drawing on the history of the role models that came before you.
Black Boy, Black Boy is perfect for those looking for:
-inspirational books for kids
-joyful Black childrens' books
-Black history books for kids
About the Author
---
Ali Biko Sulaiman Kamanda is an award-winning filmmaker and social entrepreneur from Sierra Leone, West Africa. He runs BIKO Studios, a cross-cultural film production company and is the President of Salone Rising, a not-for-profit organization that provides micro-financing and mentoring resources to small business owners in rural Sierra Leone. Jorge Redmond currently works in the Buncombe County District Attorney's office as an Assistant District Attorney, and as an adjunct professor in South College's Legal Department. Ali and Jorge are college friends, and BLACK BOY, BLACK BOY is their debut book.
Ken Daley is an award-winning artist/illustrator from Cambridge, Ontario, Canada. Ken's passion lies with stories that reflect his heritage as the child of immigrants, his connection to the Caribbean, and the richness and expanse of of the African diaspora. He believes that diverse stories are essential to creating a more just and equitable world and this is something he is deeply committed to manifesting through his art.
Praise For…
---
"When I read Black Boy, Black Boy, so many of my at-risk students came to mind. These authors have a keen understanding of how to deliver a powerful message of encouragement and hope, relevant to all readers but most especially to our black boys who can draw on the courageous leaders of the past and present to build a bright future for themselves." — Robin Overby Cox, Library Media Specialist (Benham, TX)

"It's a cool book with lots of famous people who can help me learn how to be a good person" — Roderick W., Texas student

"This ode to Black boy joy abounds in positive representation of Black men and serves as a beautiful reminder of a glorious lineage. An affirming, nurturing, and powerful celebration of Black men, past, present, and future" — Kirkus Reviews

"A wonderful letter to young Black men... Definitely a must read for any child" — Children's Literature Comprehensive Database

"A book that educates, empowers, and enlightens—this book belongs in every library" — School Library Journal, STARRED review

"Black Boy, Black Boy...inspires and informs." — Terri Schlichenmeyer, Bookworm Sez

"Full of Black boy joy, this book will be a great addition to your home library." — Fabulize Magazine

"Will captivate young readers." — Seattle Book Review

"An uplifting and gorgeously illustrated picture book." — poets.org

"A welcome gift...inspirational. " — The Eagle Times

"This beautiful picture book celebrates the future and the power of black boy joy, as a young boy is inspired by those who came before him. " — The Ashville-Citizen Times

"Black Boy, Black Boy is an ode to Black Boy Joy written in an accessible, easy-to-read poetry format... A great addition to any #RepresentationMatters classroom or library collection." — Booklist
Free Media Mail shipping on U.S. orders over $75
"Ships from warehouse" books to be shipped: order by Wednesday, 12/6
"Ships from warehouse" books for pickup: order by Tuesday, 12/12