FREE Media Mail shipping on eligible items! We are open for browsing by appointment from 10am-7pm M-S and 10am-6pm Sundays. Email books@quailridgebooks.com for a reservation. Phones may not be answered due to high volume of calls.
Skyward (MP3 CD)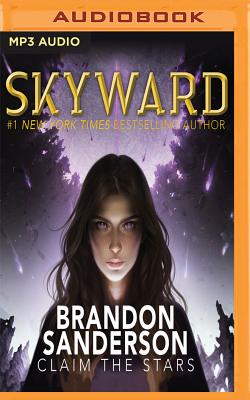 $14.99
Hard to find: allow 24 hours for information
Description
---
From Brandon Sanderson, the number one New York Times best-selling author of the Reckoners series, Words of Radiance, and the internationally best-selling Mistborn series, comes the first book in an epic new series about a girl who dreams of becoming a pilot in a dangerous world at war for humanity's future.
Spensa's world has been under attack for decades. Now pilots are the heroes of what's left of the human race, and becoming one has always been Spensa's dream. Since she was a little girl, she has imagined soaring skyward and proving her bravery. But her fate is intertwined with her father's - a pilot himself who was killed years ago when he abruptly deserted his team, leaving Spensa's chances of attending flight school at slim to none.
No one will let Spensa forget what her father did, yet fate works in mysterious ways. Flight school might be a long shot, but she is determined to fly. And an accidental discovery in a long-forgotten cavern might just provide her with a way to claim the stars.