DIY Mobile Solar Power Made Easy: A Step By Step Beginner's Guide Using 12 Volt Off Grid System Installation Designs. (Do It Yourself On Cars, Boats, (Paperback)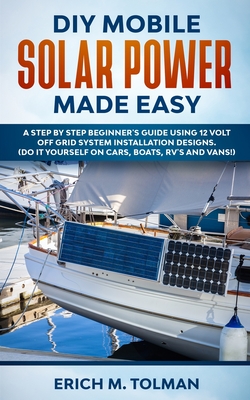 $13.99

Ships from warehouse to store in 3-6 business days
(NOTE: This book cannot be returned and may not be eligible for discounts.)
Description
---
Harnessing energy from the sun used to be a fantasy, along with flying cars and floating cities. However, as over time, there was a mass improvement of technology, solar panels have not only become a thing of the present, but also a necessity in competing with other clean energy sources. Many countries are using the growing scarcity of fossil fuels to bolster future generations to become more responsible for the Earth's health. Luckily, solar energy is abundant and provides few pollutants, providing a double win for yourself and the Earth.
You have seen solar panels on the tops of houses and likely as conceptual ideas for the future. Adding solar panels as an alternative to fossil fuels is nothing new. However, did you know that you can add solar panels to almost any mobile vehicle? The technology to create solar panels is now literally moving across the world. All you need are solar panels, inverters, a charge controller, and batteries. Depending on the size of your project, you could expect to see your solar panels becoming mobile for less than $1,000, and it might be the best investment you'll ever make.
This book contains some of the best techniques to attach solar panels to mobile power stations, cars, vans, RVs, and boats. This step-by-step instructional guide to get you through what is listed in each chapter. The following points will serve as a walkthrough of the book:
● What is solar energy: Solar panels transform light into energy that powers homes. This chapter also explains what is needed for all solar panel setups and what you can expect when you go shopping.
● Advantages and Disadvantages: Sure, solar power is all the rage, but what are the advantages and disadvantages of using them? This chapter explores both the highlights and lowlights of the solar panel industry and the costs of using panels.
● Building a mobile solar power station: One of the simplest forms of transporting energy is through attaching it to wheels. This chapter instructs readers to create a mobile solar power station that will power batteries in any location.
● Equipping your car with solar power: Like the mobile solar power station, you can equip your car with solar panels and power electronics while on the move or when parked. This chapter explains how to attach solar panels safely and how to attach them to batteries that can power them while driving.
● Motorhome and RV solar panels: Solar panels are even easier to attach to large vehicles such as motorhomes and RVs. This chapter explains how and where to attach solar panels to reduce the use of fossil fuels.
● Solar energy for your boat: While you are out on the sea, use solar power to enhance the lifespan of your batteries while you sail. This chapter explains where to build the system and considerations to explore while you're out on the water.
This book provides a step-by-step guide to beginning your solar journey while on the move. Whatever your pastime is, solar panels can aid your journey and help you create a quieter, more efficient lifestyle. With the passing of each day, green energies are becoming more and more vital, so be a part of the journey and start building your mobile solar power stations today.
Free Media Mail shipping on U.S. orders over $75