Greek Mythology for Kids: Legendary Stories of Gods, Heroes, and Mythological Creatures (Paperback)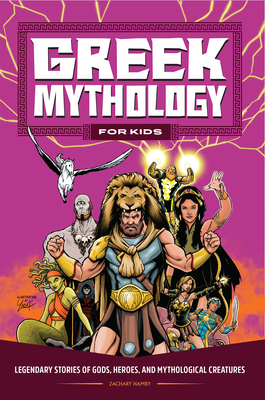 $12.99

Ships from warehouse to store in 3-6 business days
Description
---
Experience adventure and enchantment with Greek mythology for kids 8 to 12
Greek gods and goddesses continue to capture our imaginations with tales of epic battles and star-crossed love. Whether you're fighting alongside Zeus in the war against the Titans or witnessing the sabotage of Artemis's love for the mortal Orion, this book will thrill you with extraordinary stories from Greek legend.
Classic characters—Dive into 20 exciting, kid-friendly tales featuring the antics of favorite characters like Aphrodite, the goddess of love, Hermes, messenger of the gods, and Persephone, queen of the underworld.
Dramatic illustrations—Watch the awe-inspiring world of Greek mythology come to life with the bold art in the style of a graphic novel for kids.
A guide to the Greeks—Learn who did what and where with a handy guide to characters and locations that makes exploring Greek mythology fun and easy.
Venture into Greek Mythology for Kids!
About the Author
---
ZACHARY HAMBY is the author of the Reaching Olympus and Mythology for Teens series, as well as World Mythology for Beginners, Introduction to Mythology for Kids, and The Hero's Guidebook. He's an English teacher in rural Missouri, where he lives with his wife, Rachel, and their two children, Luke and Jane.
Praise For…
---
"Worried about teaching Greek mythology to young kids? Some details can be a scad too scandalous for sure, but look no further! Hamby has done the impossible: retold the Greek myths with a focus on insight rather than impropriety. G-rated!" —Nathalie Roy, 2021 Louisiana State Teacher of the Year, teacher of creative classics

"This thrilling collection of Greek myths by Zachary Hamby is sure to delight and fascinate young readers. Each chapter introduces a different Greek myth and is accompanied by colorful, eye-catching illustrations by Yancy Labat. Highly recommended for public and school libraries." —Paige Harp, coordinator of infant through grade 12 resources at Missouri State University, Meyer Library

"Hamby has put so much energy into this latest offering. This resource is a visual tour de force and includes impressively detailed and beautifully rendered illustrations of several Greek mythology favorites. Targeted for younger readers, this ancillary text is packed with wonderfully researched material and copious notes." —Micheal Posey, chair: Pegasus National Mythology Exam
Free Media Mail shipping on U.S. orders over $75