The Freedom Broker: a heart-stopping, action-packed thriller (A Thea Paris Novel #1) (Paperback)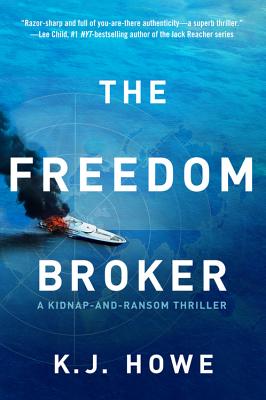 $16.99
Email or call for price.
Other Books in Series
This is book number 1 in the A Thea Paris Novel series.
Description
---
"RAZOR SHARP AND FULL OF YOU-ARE-THERE AUTHENTICITY--A SUPERB THRILLER." --LEE CHILD
"AN AMAZING PAGE-TURNER." --JEFF AYERS, ASSOCIATED PRESS
"MOVE OVER JASON BOURNE, ACTION HAS A NEW NAME!" --LISA GARDNER
The survival window for kidnap victims is small. And Thea Paris is running out of time.

Thea Paris, one of only twenty-five elite kidnap and ransom specialists in the world--and the only one who is a woman--is the best in the business. And she's facing the most urgent and challenging rescue mission of her life: her own father's.

As a child, Thea was forced to watch, paralyzed with fear, while her younger brother was abducted in the middle of the night by masked intruders. This life-changing experience drove her to become what she is today: a world-class freedom broker.

When Thea's oil magnate father, Christos Paris, is snatched from his yacht off Santorini on his sixtieth birthday, days away from the biggest deal of his career, the brutal kidnappers leave the entire crew slaughtered in their wake. Can Thea rescue her father--and prevent this kidnapping from destroying her family for good?

About the Author
---
K.J. Howe is the executive director of ThrillerFest, the annual conference of International Thriller Writers. A three-time Daphne du Maurier Award winner, she completed her MA in Writing Popular Fiction at Seton Hill University. She is an avid traveler who has raced camels in Jordan, surfed in Hawaii, and dove with the great whites in South Africa. She became fascinated by the kidnap and ransom (K&R) world after meeting Peter Moore, a British computer consultant who became the longest-held hostage in Iraq and the only person to survive of the five men who were taken that day. This is her debut novel.
Praise For…
---
Winner of the International Thriller Writer's Best First Novel Award, 2018
Nominated for the 2018 Best Thriller, Barry Award
"Howe uses fascinating details regarding real-world teams that specialize in kidnapping with gripping action and thrills to make this an amazing page-turner. It's hard to believe that this is her first novel because the story, characters and pacing feel like the work of a much more experienced storyteller."—Jeff Ayers, Associated Press

"Razor sharp and full of you-are-there authenticity - a superb thriller."—Lee Child, #1 New York Times Bestselling author

"Move over Jason Bourne, action has a new name as international kidnapping expert Thea Paris pulls out all the stops to rescue her own father in this clever and gritty debut."—Lisa Gardner, #1 New York Times bestselling author of Find Her

"This debut novel generates nonstop suspense, commanding attention from the start and never letting go. Intended as the start of a series, this is a must for thriller fans."
—Booklist (Starred Review)

"A fast-moving thriller featuring kidnapped oil tycoon Christos Paris and his kidnap-negotiator daughter, Thea. She's tough. She's smart. She's diabetic . . . A spectacular start for what promises to be a great Thea Paris series."
—Kirkus (Starred Review)

"The Freedom Broker combines terrific thriller writing and fascinating research about hostage rescues. This is fact and fiction at its best."
—James Patterson, #1 New York Times bestselling author

"Howe provides non-stop action, believable characters, and a well-researched look at the world of international kidnapping."
—Publishers Weekly

"A debut of considerable power . . . Highly recommended for those seeking the comfort and thrills that an international thriller can provide in a world where fact and fiction seem intertwined. I am sure we will be hearing again from Thea Paris before too long."
—Ali Karim, Shots Magazine

"Unparalleled storytelling by K.J. Howe . . . Her characters are memorable and realistic. She has a great talent for the description of landscapes, action, and an unerring detail for stealth from the beginning to the climactic end. I wish I could write as well."—Clive Cussler, #1 New York Times bestselling author of The Pharaoh's Secret

"It's hard to reach the level of Lisa Gardner and Harlan Coben the first time out of the box, but K.J. Howe does just that in her masterful debut, The Freedom Broker."
—Providence Journal

"I figured Howe could deliver suspense and intrigue. What really surprised me is her ability to bring the action! She has her own unique style, and her diabetic, forced-to-thrive-in-a-predominantly-male-profession heroine, Thea Paris, is a great new character. Throw Gayle Lynds and Lee Child into a blender, and you get K.J. Howe. Do not miss this debut!"—The Real Book Spy

"The action is fast-paced and believable...Thea is sharp and smart and knows her combat. The final confrontation pumps up the action to the max and kept me on the edge of my seat. I stayed up burning through the last hundred pages to find out the identity of the abductors and their motives. A great, solid entry in the espionage thriller genre that will please military buffs and those interested in the twisted world of global politics and the battle over resources that affects us all."—The Criminal Element

"The Freedom Broker is for fans of fast-paced thrillers --and anyone looking for some diabetes representation in their fiction."—Diabetes Forecast

"Author K.J. Howe has given full measure to her debut novel."—The Florida Times Union

"While there is a lot of action, the real heart of the story lies in Thea's relationships... This look at the softer side of the tough hostage specialist elevates The Freedom Broker above a typical bullet-laden thriller, and I'm interested to see what happens next in the Thea Paris series."—MysteryScene Magazine

"an excellent debut from an exciting new talent. Such was the fast pace of my reading, it left me with a blister on my page turning finger! Brilliant stuff!"—CrimeSquad

"The Freedom Broker is a winner. [K.J. Howe's] action scenes are realistic and exciting. Her pace is relentless. And her twists and turns are shocking."—Deadly Pleasures Magazine

"You know upon reading the first chapters of her novel, Freedom Broker, that you are in the presence of an enormous potential. The writing is brisk, the tone confident, and the story not only eye-popping original but also riveting. It is one of those (forgive the cliché) can't-put-downers as you get enmeshed in the world of K&R."—Books du Jour

"Howe has done her research. Her writing is tight and the situations and her characters come to life. It's hard to believe this is her debut novel. Howe doesn't fall back on standard thriller tropes; the story is fresh and unique. Thea Paris is a female Rambo, strong and resilient and this reviewer appreciates that Howe doesn't fall into the "romance" trap. The action in the story keeps you on the edge of your seat and you don't see the twist at the end coming. I highly recommend this novel."
—Horror World

"With an alpha female heroine and a plot that's smart, detailed, and highly engaging, The Freedom Broker introduces a new name to the thriller genre: K.J. Howe. It's a fantastic debut . . . a pulse-pounding treat for anyone who loves action and adventure."—Steve Berry, New York Times bestselling author of The Patriot Threat

"K.J. Howe's debut novel is a high-stakes geopolitical thriller that is truly a page turner. The Freedom Broker explores and illuminates the exotic world of elite Delta Force-type professionals who make a dangerous and deadly living rescuing kidnap victims all over the world. And we are along for the ride of our lives. Incredibly well-researched and expertly written, this is a behind-the-scenes story of how some hostage victims come home safely and why some do not."—Nelson DeMille, #1 New York Times bestselling author of The Panther

"K.J. Howe tells a spellbinding tale, her descriptions so vivid you can smell every heart-pounding second of her action, and she writes with a deeply human voice."—Peter James, bestselling author of You Are Dead

"K.J. Howe is a master at weaving together action and suspense. Her debut The Freedom Broker is an engaging, fast-moving, spellbinding international intrigue that will leave you breathless. In Thea Paris, Howe has created a smart, complex, yet kick-ass character that you'll want to follow and root for."—Simon Gervais, former RCMP counterterrorism agent and bestselling author of The Thin Black Line

"What a crackling debut! International kidnap rescue specialist Thea Paris is a beguiling hero caught in the case of her life, and KJ Howe writes about her with knowledge and precision. The Freedom Broker explodes with high-level excitement!"
—Scott Turow, #1 New York Times bestselling author

"The Freedom Broker has great bones: engaging characters, nimble pacing, and crackling action."
—Kathy Reichs, New York Times bestselling author

"The pulse-pounding excitement never ends in this remarkable debut novel . . . From Africa's violent backcountry to cosmopolitan Athens and the corridors of power in Washington D.C., Howe takes the reader on the thriller ride of a lifetime. All of kidnap negotiator Thea Paris's skills are tested when she has to save a billionaire who is also someone she loves. Memorable characters, muscular prose, and a world atlas of fascinating insider details make this a can't-put-down read. I loved it!"—Gayle Lynds, New York Times bestselling author of The Assassins

"A high-octane debut thriller from K.J. Howe. Kidnap negotiator Thea Paris is a heroine with brains, martial skills, and true character, whose own dark and deep family history drives her on as she travels the world bringing kidnapped victims home to their loved ones. Here's hoping Paris returns soon for another outing!"
—Mark Greaney, #1 NYT-bestselling author

"The Freedom Broker is an adrenaline-fueled, non-stop thrill ride. From the pulse pounding first pages, through the shocking conclusion, Howe never lets up on the suspense, the twists, and the action. Hostage negotiator Thea Paris is my favorite kind of heroine -- fierce, whip-smart, and very human. We'll all be waiting anxiously for the next riveting chapter in her story."—Lisa Unger, New York Times bestselling author

"Breathless action, great characters and convincing details make Howe's The Freedom Broker a surefire rocket to the top of the lists."—Linwood Barclay, #1 Internationally Bestselling Author

"The Freedom Broker delivers big time with a compelling heroine, cracker jack action, and plot that grabs and holds to the last page."—John Lescroart, New York Times bestselling author

"A masterful thriller that you won't soon forget after turning the last exciting page--and one that will leave you wondering how fast you can get your hands on Thea Paris's next extraordinary adventure."—W.E.B. Griffin & William E. Butterworth IV, No. 1 New York Times bestselling authors

"I absolutely loved this read and its super-smart and able protagonist, Thea Paris! K.J. Howe's clever and action-packed storytelling is an exciting and groundbreaking addition to the genre."
—Sara Blaedel, #1 Internationally Bestselling Author of the Louise Rick series

"Unrelentingly entertaining and impossible to put down, The Freedom Broker boasts the ferociously savvy, serious as hell Thea Paris, who brilliantly plots and fearlessly fights to rescue her kidnapped father from the clutches of expert, deadly opponents."
—Karin Slaughter, Internationally Bestselling Author of The Kept Woman

"K.J. Howe hits the ground at a dead run with her new heroine-smart, tough, and extremely driven kidnap-retrieval expert, Thea Paris. It's clear Howe has done her research-on locations, the intricacies of kidnap negotiations, and the nitty-gritty realities of taking the fight to the bad guys. Expertly plotted, The Freedom Broker at once satisfies and leaves us impatient for the next one."—Marc Cameron, New York Times bestselling author of the Jericho Quinn series

"Smart, fast, and vivid, The Freedom Broker pitches brother against sister in a global power play that turns to war. Unique settings and expertly told, K.J. Howe knows her stuff."—Taylor Stevens, New York Times bestselling author

"An impressive debut that delivers a dazzling thrill ride, leaving the reader breathless and smarter. Rich with exotic locales and insights into the high-stakes world of international kidnapping, The Freedom Broker soars with high adventure as Thea Paris does it all in this outstanding series starter."—Lissa Price, Internationally Bestselling author of the Starters series

"The Freedom Broker opens hot and stays that way. Author K.J. Howe and her protagonist, hostage-negotiator Thea Paris, are off to a high-octane start in this international thriller and series debut. Thea's oil-tycoon father is kidnapped -- echoing the abduction of her brother two decades earlier -- and it's up to Thea to solve the family's brutal business. A wickedly fast read."—Neely Tucker, author of the Sully Carter series

"A fast paced, action packed story that will keep readers guessing until the very end!"—Write - Read - Life

"This story has many little items that you would not expect to read in a thriller...KJ Howe manages within a few paragraphs to bring Thea Paris to life...watch out literary world! KJ Howe has arrived!"
—Authors on the Air

"Howe might be a first time novelist, but the razor sharp writing is without an ounce of fat. With loads of technical explanations of weaponry and procedures, this story could have easily been drowned in detail, but it only pushes the action forward. This will wind up becoming a contender for best thriller of the year. Easily."
—Cemetery Dance Magazine

"Howe's book is a thriller that kept me up all night. I finished it in a single sitting and enjoyed every moment. I can't wait for the next installment."—Scott's Diabetes Blog