An Ordinary Youth (Paperback)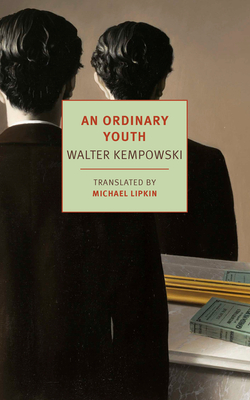 Description
---
An Ordinary Youth is a novel drawn directly from the author's boyhood in Nazi Germany. Nine-year-old Walter's family is moving house when the novel opens, but Walter's main concerns are his tin soldiers and his older brother's jazz records, his father's fluctuating moods, and his mother's ministrations and anxieties. While Walter is absorbed by his private life, the extraordinary accumulation of contemporary idioms that accompany his point of view—dialogue, song, literary quotations, commercials, and political slogans—tell a different story.  Through this echo chamber of voices, Kempowski shows a hugely turbulent and murderously intolerant nation racing toward disaster. An immediate bestseller when it was first published in Germany in 1971 (as Tadellöser & Wolff) and the best known of Kempowski's novels in Germany, An Ordinary Youth is now available in English for the first time.
About the Author
---
Walter Kempowski (1929–2007) was one of postwar Germany's most acclaimed and popular writers. His novels include All for Nothing and Marrow and Bone (both published by NYRB Classics). In the 1980s he began work on an immense project, Echo Soundings, which gathered firsthand accounts, diaries, letters, and memoirs of World War II. It is considered a modern classic.

Michael Lipkin is a translator and scholar of German literature with a focus on realism. His writing has appeared in The New Left Review, The Times Literary Supplement, The Nation, and The Paris Review, among others. He is currently a visiting professor of German Studies at Hamilton College.
Praise For…
---
"The book – whether or not it is right to call it a novel is one of the many questions that it poses – consists of continuously relayed fragments of Kempowski's youthful memories from the late 1930s to the fall of Berlin....This book feels horribly timely as a renewed posing of the question of what horrors we are willing to accept as normal."—Joe Moshenska, The Guardian

"An Ordinary Youth, first published in Germany in 1971, is set in Rostock, where in 1948 Kempowski, his mother, and his brother were arrested on charges of espionage...But the plot here is far more ordinary, despite the extraordinary context...His loving family talks and Walter absorbs the culture of his time, which translator Lipkin brings to life...Told through one family's story, this is an effective portrait of bourgeois complicity." —Booklist

"What was it like to grow up in Nazi Germany? In the autobiographical novel that made him famous, Walter Kempowski shows that it was completely 'ordinary'—and for that very reason, deeply uncanny. Doing justice to both the innocence of the boy he was and the moral judgment of the man he became, Kempowski creates an appealing and appalling case study in the banality of evil." —Adam Kirsch

"Fascinating and disturbing. Kempowski plunges the reader into the already running tide of one of history's great horrors so that we see it as if from within. . . . An unflinchingly honest re-creation of a time and place that still beggars understanding." —Carol Birch

"Compellingly immersive in all its intensely evocative detail, sometimes very funny, sometimes not funny at all, An Ordinary Youth reveals once again Kempowski's extraordinary gift for showing how lives are lived in the narrow confines of the quotidian even as mighty forces are rumbling in the background and preparing to overturn and perhaps destroy those lives. The appalling events of mid-twentieth-century Europe have been the subject matter of many fine writers: arguably none more truthful to the unsentimental, unheroic reality of the lived experience than Kempowski." —David Kynaston

"First published the year I was born, this book was a favourite in my family, both for its humour and its unflinching eye on Third Reich Germans. I grew up with Kempowski's idioms and eccentric phrasings passed around the table at dinner.  For decades, the novel was considered too idiosyncratic to work in translation, but Michael Lipkin has pulled off a masterstroke, retaining the sense of being inside Walter's head: the boy in the midst of events, understanding little, but capturing everything in snippets of sound and image and experience." —Rachel Seiffert
Free Media Mail shipping on U.S. orders over $75