We are closed to the public under the stay-at-home order, but we are still offering free Media Mail shipping on eligible items to the continental United States!
Caterpillar Summer (Hardcover)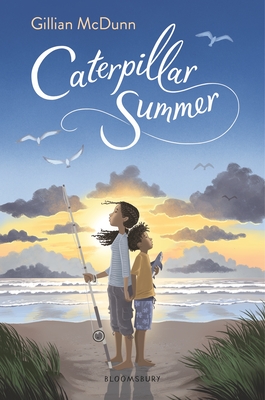 Staff Reviews
---
Eleven year old Cat and her seven year old brother, Chicken, live with their mom in California. Since their father died, their mother works long hours to make ends meet. Cat is responsible for looking after Chicken, who has some special needs. She knows exactly how to calm him down and is fiercely protective of him.
The kids are looking forward to their annual summer vacation with friends when their plans abruptly change. They must now spend the summer with grandparents they have never met on an island in North Carolina.
This is a tender and uplifting story about empathy, connection and family. The author beautifully captures the atmosphere and rhythm of a summer spent at the beach.
— Abbe
I loved this story of a young girl who takes responsibility for her younger brother, a child on the spectrum, during a surprise visit to grandparents who have never known them. Everyday life on a coastal NC island provides opportunities for unexpected friendships, misunderstandings, and reconciliations that change lives. There is an honest beauty, poignancy, and naturalness to the writing.
— Carol
Spring 2019 Kids Indie Next List
---
"This stunning debut from Gillian McDunn is guaranteed to warm any reader's heart. Cat and her brother, Chicken, who has special needs, have never met their mother's parents, but that all changes when their mom is called away to work and the kids need somewhere to go for the summer. Once the kids arrive at their grandparents' house on Gingerbread Island, old hurts are exposed and Cat has to navigate her family's complicated history. At the same time, Cat has to look after Chicken, who lands himself in sticky situations despite his best efforts. Mix in a new friend, a little bully, and a fishing competition, and that's one thrilling summer! Cat is a spirited, responsible young girl with a fierce sense of what is right. She is sure to win a lot of fans!"
— Michael Leali, Anderson's Bookshops, Naperville, IL
Description
---
This beautifully written, emotional debut perfect for fans of Lynda Mullaly Hunt or Ali Benjamin tells the story a girl, her special needs brother, and the summer they will never forget.
"An engaging, honest book." --Kimberly Brubaker Bradley, Newbery Honor-winning author of The War That Saved My Life
"A beautiful story of family, forgiveness, life on an island, and growing up."--Kate Messner, author of Breakout and The Seventh Wish
Cat and her brother Chicken have always had a very special bond--Cat is one of the few people who can keep Chicken happy. When he has a "meltdown" she's the one who scratches his back and reads his favorite story. She's the one who knows what Chicken needs. Since their mom has had to work double-hard to keep their family afloat after their father passed away, Cat has been the glue holding her family together.
But even the strongest glue sometimes struggles to hold. When a summer trip doesn't go according to plan, Cat and Chicken end up spending three weeks with grandparents they never knew. For the first time in years, Cat has the opportunity to be a kid again, and the journey she takes shows that even the most broken or strained relationships can be healed if people take the time to walk in one another's shoes.
An Indies Introduce Pick
A Parents Best Book of the Year
A Kirkus Reviews Best Book of the Year
An Amazon Best Book of the Year
About the Author
---
Gillian McDunn has lived in California, Missouri, and North Carolina, and is a fan of both the Pacific and the Atlantic Oceans. Like Cat, Gillian grew up as the big sister to a younger brother with special needs. She lives near Raleigh, NC, with her family. This is her first book.
gillianmcdunn.com
Praise For…
---
"An engaging, honest book--I love Cat, and you will, too!" - Kimberly Brubaker Bradley, Newbery Honor-winning author of THE WAR THAT SAVED MY LIFE
"I could almost smell the ocean air as I read Gillian McDunn's Caterpillar Summer. What a beautiful story of family, forgiveness, life on an island, and growing up." - Kate Messner, author of BREAKOUT and THE SEVENTH WISH
"An engrossing, heartwarming, beautifully written debut about building and rebuilding family ties." - Kirkus Reviews, starred review
"McDunn's poignant, gratifying debut about friendship and family encourages both empathy and hope." - Publishers Weekly, starred review
"This absorbing, heartfelt novel seamlessly blends the challenges of life with a neurodivergent child into a story of one tween's burgeoning self-awareness as she figures out how to reclaim her childhood." - New York Times Book Review
"A sweet summer story that middle grade readers will appreciate." - School Library Journal
"Fans of the books Rules by Cynthia Lord and Mockingbird by Kathryn Erskine will enjoy this well-written book about the struggles of a fractured family." - School Library Connection
"Readers will find Cat to be an admirable and fully credible heroine . . . and the idyllic island setting makes for a wistful summer escape." - BCCB