We Are the Light: A Novel (Hardcover)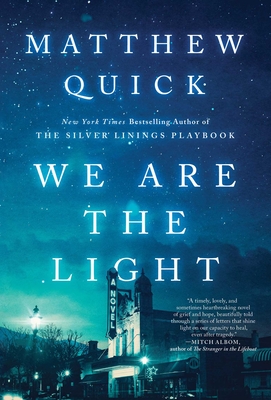 Staff Reviews
---
The depth and breadth of loss suffered by the narrator and townspeople in We Are the Light by Matthew Quick took me to my knees. The devastation I felt was matched only by the hope that rose from the characters' ineffable strength to overcome the horrific events they endured. Their sheer strength of will, forgiveness, and support of each other in the aftermath still leaves me breathless, awestruck by their capacity to overcome life's darkest events.
The author skillfully reveals the story through letters from the narrator to his therapist, and leads the reader to confront and viscerally experience the crushing wounds we inflict upon each other. He does not leave us bereft, and ultimately allows us to see the possibility of surviving the devastation.  A profound and moving read that will leave you wounded by the depths of horrors we wreak upon each other, and uplifted by our boundless capacity to rise above them. 
— Belinda
November 2022 Indie Next List
---
"Matthew Quick scores a perfect 10 in this deeply stirring, gorgeously hopeful novel that shines a brilliant beam on the path out of grief and toward healing. May we all learn the way to be such lights from this remarkable guide."
— Beth Stroh, Viewpoint Books, Columbus, IN
Description
---
*"A treasure of a novel…read it and be healed." —Justin Cronin * "Beautifully written and emotion-packed." —Harlan Coben *

From the New York Times bestselling author of The Silver Linings Playbook—made into the Academy Award–winning movie starring Jennifer Lawrence and Bradley Cooper—a poignant and hopeful novel about a widower who takes in a grieving teenager and inspires a magical revival in their small town.

Lucas Goodgame lives in Majestic, Pennsylvania, a quaint suburb that has been torn apart by a recent tragedy. Everyone in Majestic sees Lucas as a hero—everyone, that is, except Lucas himself. Insisting that his deceased wife, Darcy, visits him every night in the form of an angel, Lucas spends his time writing letters to his former Jungian analyst, Karl. It is only when Eli, an eighteen-year-old young man whom the community has ostracized, begins camping out in Lucas's backyard that an unlikely alliance takes shape and the two embark on a journey to heal their neighbors and, most importantly, themselves.

From Matthew Quick, whose work has been described by the Boston Herald as "like going to your favorite restaurant. You just know it is going to be good," We Are the Light is "a testament to the broken and the rebuilt" (Booklist, starred review). The humorous, soul-baring story of Lucas Goodgame offers an antidote to toxic masculinity and celebrates the healing power of art. In this unforgettable and optimistic tale, Quick reminds us that life is full of guardian angels.
About the Author
---
Matthew Quick is the New York Times bestselling author of The Silver Linings Playbook—which was made into an Oscar-winning film—and eight other novels, including We Are the Light, a #1 Indie Next Pick and a Book of the Month selection. His work has been translated into more than thirty languages, received a PEN/Hemingway Award Honorable Mention, was an LA Times Book Prize finalist, a New York Times Book Review Editors' Choice, a #1 bestseller in Brazil, a Deutscher Jugendliteratur Preis 2016 (German Youth Literature Prize) nominee, and selected by Nancy Pearl as one of Summer's Best Books for NPR. The Hollywood Reporter has named him one of Hollywood's 25 Most Powerful Authors. Matthew lives with his wife, the novelist Alicia Bessette, on North Carolina's Outer Banks.
Praise For…
---
"When you read Quick, you don't feel guilty if your tears are mixed with laughter. . . . His skill at crafting an engaging narrative around trauma is as strong as ever. . . . We Are the Light is a reminder that grief is complex and that we shouldn't be afraid to grasp the hands stretched out to help us. As the title points out, even in the dark, there can be light."
—Karin Tanabe, The Washington Post

"We Are the Light is a testament to the broken and the rebuilt. . . . Quick's deeply moving epistolary novel is a balm."
—Booklist (starred review)

"An illuminating epistolary novel . . . A crackling narrative builds to an excruciatingly honest disclosure. The author's fans will love this."
—Publishers Weekly

"A timely, lovely, and sometimes heartbreaking novel of grief and hope, beautifully told through a series of letters that shine light on our capacity to heal, even after tragedy."
—Mitch Albom, #1 New York Times bestselling author of The Stranger in the Lifeboat

"Matthew Quick's We Are the Light is a treasure of a novel—wise, humane, and deeply moving. Whoever you are, whatever trials you've faced in life, read it and be healed."
—Justin Cronin, New York Times bestselling author of the Passage Trilogy

"We Are the Light is the book America needs right now. A novel that embraces our national heartbreak and division with love and compassion. Matthew Quick is the patron saint of the damaged and outcast and no one writes with more heart and empathy. You'll love this book."
—Nickolas Butler, bestselling author of Shotgun Lovesongs and Godspeed

"We Are the Light is a beautifully written and emotion-packed novel with a huge heart. Matthew Quick takes us on a searing and unforgettable journey through grief and empathy and how even the most broken of us can be repaired."
—Harlan Coben, #1 New York Times bestselling author of Win

"Matthew Quick has always been a brilliant chronicler of the ways in which we get broken, and the spectacular ways our lives can fall apart, and yet his greatest gift is the way he tries to find, within every story, an opportunity to put some of those pieces back together. In We Are the Light, where unexpected connections offer a way forward, Quick writes with such honesty and openhearted understanding of the pain and joy of being alive."
—Kevin Wilson, New York Times bestselling author of Nothing to See Here

"Filled with everyday guardian angels, this bittersweet, redemptive meditation on rebuilding after the unthinkable reminds readers that beauty can be found even among shattered pieces. We Are the Light is a perfect read for anyone in need of an insightful, optimistic view of humanity's capacity for compassion and growth."
—Shelf Awareness

"Matthew Quick is one of the few fiction writers who, inspired by Jungian insights, makes a solid contribution to the impact of analysis. Like all significant works of art that reflect truths we might have known, had we not lost our way, We Are the Light is subtle and intimate, compellingly strange and hauntingly familiar, an initiation into the depths of suffering and love. It will not only break your heart—it will break it free."
—Joseph R. Lee, Jungian analyst and cohost of This Jungian Life podcast

"A story of unexpected twists and turns on the road to recovery after a shattering tragedy. . . . When it comes to facing tragedy and trauma, Quick's novel shows us that it definitely takes a village to heal and move on."
—Kirkus Reviews
Free Media Mail shipping on U.S. orders over $50