Whalefall: A Novel (Hardcover)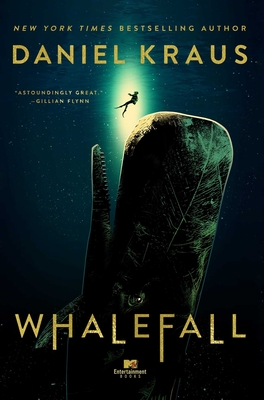 Staff Reviews
---
Whalefall, by Daniel Kraus, is based on a ridiculous premise -- a skinny little scuba diver is swallowed by a huge sperm whale.  Also, the first couple of chapters are kind of slow going.  So why am I recommending this book?  Because it is a rollercoaster of a story.  Jay Gardiner's estranged father commits suicide by drowning himself.  We know it's suicide because the man was a legendary diver in his state.  Jay was not there when his father was diagnosed with mesothelioma, nor when Mitt Gardiner killed himself.  The guilt Jay feels motivates him to go diving to find any of his father's remains.  While searching, Jay is accidentally swallowed by the whale in a completely plausible event.  The rollercoaster effect of the book starts at this point. Jay's air is running out.  In fact, the chapter titles are PSI numbers. While trying to free himself from the whale, Jay embarks on a spiritual journey of hope, despair, and forgiveness.
— Bill
August 2023 Indie Next List
---
"This masterfully researched thriller weaves the story of a young diver's tumultuous relationship with his father with the primal terrors of the deep sea. A heart-pounding tale of humanity, science, and survival you won't soon forget."
— Mary Powers, Politics and Prose Bookstore, Washington, DC
Description
---
A USA TODAY BESTSELLER

The Martian meets 127 Hours in this "powerfully humane" (Owen King, New York Times bestselling author) and scientifically accurate thriller about a scuba diver who's been swallowed by an eighty-foot, sixty-ton sperm whale and has only one hour to escape before his oxygen runs out.

Jay Gardiner has given himself a fool's errand—to find the remains of his deceased father in the Pacific Ocean off the coast of Monastery Beach. He knows it's a long shot, but Jay feels it's the only way for him to lift the weight of guilt he has carried since his dad's death by suicide the previous year.

The dive begins well enough, but the sudden appearance of a giant squid puts Jay in very real jeopardy, made infinitely worse by the arrival of a sperm whale looking to feed. Suddenly, Jay is caught in the squid's tentacles and drawn into the whale's mouth where he is pulled into the first of its four stomachs. He quickly realizes he has only one hour before his oxygen tanks run out—one hour to defeat his demons and escape the belly of a whale.

Suspenseful and cinematic, Whalefall is an "astoundingly great" (Gillian Flynn, New York Times bestselling author) thriller about a young man who has given up on life…only to find a reason to live in the most dangerous and unlikely of places.
About the Author
---
Daniel Kraus is the New York Times bestselling author of more than a dozen novels and graphic novels. He coauthored The Living Dead with legendary filmmaker George A. Romero. With Guillermo del Toro, he coauthored The Shape of Water, based on the same idea the two created for the Oscar-winning film. Also with del Toro, Kraus coauthored Trollhunters, which was adapted into the Emmy-winning Netflix series. He has won two Odyssey Awards (for Rotters and Scowler), and The Death and Life of Zebulon Finch was named one of Entertainment Weekly's Top 10 Books of the Year. His books have been Library Guild selections, YALSA Best Fiction for Young Adults picks, Bram Stoker finalists, and more. His work has been translated into over twenty languages. Daniel lives with his wife in Chicago. Visit him at DanielKraus.com.
Praise For…
---
"Whalefall is a rare thing: a page-turning, hold-your-breath, man-vs-nature thrill ride, but also a gripping exploration of the unnavigable relationship between parent and child. It's an anguished cry from the depths of that struggle. Bravo!"
— Christopher Golden, New York Times bestselling author of Road of Bones and All Hallows

"A crazy, and crazily enjoyable, beat-the-clock adventure story about fathers, sons, guilt and the mysteries of the sea . . . [Kraus] brings the rigor of a scientist and the sensibility of a poet to his descriptions of the undersea world."—New York Times

"This gripping sci-fi thriller from bestseller Kraus takes readers quite literally into the belly of the beast […] Kraus provides solid nautical science alongside the stretchy coincidences that fuel Jay's survival. Just on the brink of horror fiction, especially for the claustrophobic, Kraus's deep-sea thrill ride will have readers on the edges of their seats."—Publishers Weekly

"A moving character study disguised as a riveting, cinematic survival thriller...The pacing is relentless, the awe astounding, and the tension palpably constricting, even as Kraus takes time to provide necessary details both scientific and visceral."—Booklist, starred review

"This hard sci-fi thriller is full of cinematic and wild suspense and would be great for fans of Andy Weir."—Library Journal, starred review

"Picture Jack London, but with a more nuanced handling of broken, damaged men."—Chicago Tribune

"One of the most intense — and moving — stories that will grace the bookstores in 2023…what Daniel Kraus has created here is something that can't be quantified."—Cemetery Dance

"An absolute triumph, a masterpiece of suspense, emotion, and flat-out terror…It's one of this year's can't-miss books, and a journey you won't soon forget."—Paste Magazine

"Kraus turns the literal guts of this novel into a haunted house, a torture chamber, a church and a uterus for belated rebirth. There is nothing else quite like Whalefall." —New Scientist

"A brutal, unsparing, wildly uplifting book. The sheer buoyancy had me breathless by the end."
— Clay McLeod Chapman, author of Ghost Eaters and Wendell & Wild

"Astoundingly great. Whalefall is, quite simply, a beautiful novel—a must-read story of the sea, the nature of awe, and the briny relationships between fathers and sons."
— Gillian Flynn, #1 New York Times bestselling author

"Brave, bold, epic, propulsive. Whalefall is a deeply moving thriller that holds a planet's worth of hope in the pit of its stomach."
— Joshua Ferris, National Book Award finalist

"The primordial nightmare at the core of Whalefall is fantastically gripping. A character study developed in the most intense crucible imaginable, Kraus's latest novel is smart, surreal, and powerfully humane."
— Owen King, New York Times bestselling author

"A masterpiece. I haven't felt so alive reading a book in a long, long time."
— Alissa Nutting, author of Made for Love and creator of the HBO Max series

"One of our oldest stories, one of our greatest fears, and one of our most capable writers. Stranger things than being swallowed by a whale have probably happened, but they've rarely been told so well."
— Stephen Graham Jones, New York Times bestselling author

"Whalefall is a mind-blowing, take-your-breath-away adventure, but it's also a tender and moving story of the relationship between a father and son. Daniel Kraus is a writer I greatly admire. He can do anything, and does."
— Dan Chaon, National Book Award finalist and New York TImes bestselling author of Sleepwalk

"Unexpectedly emotional and wildly entertaining, Whalefall is the tense revamp of Jonah's tale you didn't know you needed."
— Gabino Iglesias, award-winning author of The Devil Takes You Home
Free Media Mail shipping on U.S. orders over $75