Hindsight 2020 (Paperback)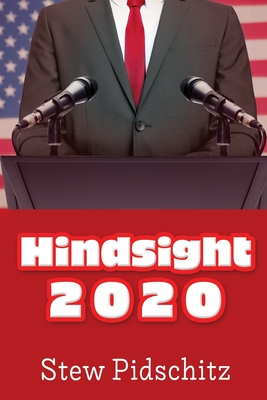 $19.99

Ships from warehouse to store in 3-6 business days
Description
---
In 2019, it occurred to me that 2020 was shaping up to become the funniest year in American political history. Watching President Trump deal with the assortment of pathetic democrat challengers was guaranteed to become hilarious - so I decided to chart the year in comedy. But 2020 took a dark turn, starting with a worldwide pandemic - then came lockdowns and riots - before finally culminating with an American presidential election so ethically questionable, that it resembled one of a third world communist country. 2020 quickly devolved from comedy - to insanity. Feeling laughter was needed now more than ever, I decided to continue writing. Some of the situations that transpired in 2020 are greatly exaggerated. In fact, many tales in this book I simply made up - to emphasize the ridiculousness of America's predicament. The sad part is that the reader may have difficulty sorting fact from fiction - as the fictional stories seem all to believable. "Hindsight 2020" is locker room type humor, written with the goal of exposing the modern day left with laughter - rather than using their favorite tactic - violence. Hopefully, there are still ways to get out of this dangerous situation without resorting to physical confrontation - and here's hoping that comedy is one of them. It's important to look at 2020 in hindsight so that - if hindsight really is 2020 - maybe we can see a way out of this quagmire. America is at a fork in the road, and we can go either left or right. Let's pray we go right - or we're forked. Stew Pidschitz (say it fast) is sick and tired of watching the internal destruction of our beloved United States. The relentless march of the left to destroy all that made this country great is, bar none, the single greatest threat America faces. Writing this book is an attempt to put my two cents into a situation - that makes absolutely no sense. After years of arguing unsuccessfully with left leaning family and friends, I decided to try another route. Rush Limbaugh lampooned the policies of the left by "illustrating the absurd with absurdity". Following that model, this is my way of doing just that. They say that laughter is the best medicine, and the best medicine is what's desperately needed to cure today's ailments. Although the problems are deadly serious, I have chosen comedy to combat this grave situation. My hope is that those on the left, especially the ones who seemingly go through life with a perpetual scowl, may learn to smile again when exposed to their absurdity - through mine. Then at least I can say - like my mother's tombstone reads - "I tried".
Free Media Mail shipping on U.S. orders over $50
Christmas ordering guidelines
"Ships from warehouse" items to be shipped: Order by Monday, 12/5
"Ships from warehouse" items to be picked-up in store: Order by Monday, 12/12
On hand items: We'll pull items in order of orders received, so keep them coming!