Praying For Reign: Never Underestimate The Power And Impact Of Your Prayers (Paperback)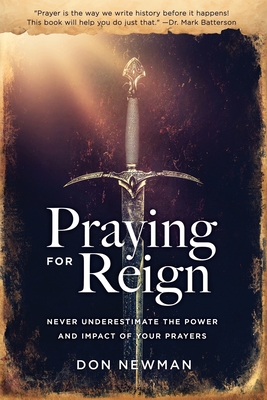 $16.49

Ships from warehouse to store in 3-6 business days
Description
---
Could your next prayer hold the key to your spiritual awakening? In Praying for Reign, three-time author and pastor Don Newman shares why prayer is one of the most precious and powerful gifts given to us by the Father. In order to upgrade our prayers from the one-dimensional prayers that too many Christians experience, we must learn how to go from praying for help to Praying for Reign.
Praying for Reign will you help establish or renew your prayer practice as you discover these transformative truths about prayer:
Prayer is the foundation God provided to His Church to unlock the manifestation of His Kingdom, on earth as it is in Heaven.
Prayer is more than just a relationship with God; it is also a partnership, and one in which He is depending on us to build and extend His Kingdom reign through prayer.
Prayer is about more than just asking for what we desire. It is also meant to be a well-developed discipline of asking for what He desires.
It is easy to underestimate the impact of prayer; however, Don believes we can develop a thoughtful, intentional prayer practice-a practice rooted in understanding the types of prayers God yearns for us to pray. Cultivating this type of prayer practice is revolutionary, both of our own lives and the world around us. It's the first step for those who wish to be a part of the army that establishes God's kingdom here on earth...and it all starts when we learn how to Pray for Reign.
Don Newman has more than twenty years of experience in ministry and leading prayer, and is also the acting Executive Director of Publishing for Salem Author Services, a division of Salem Media Group. As a passionate historian of the church and revival, Don has benefited from the writings and stories of many great intercessors of the church, including some of his own ancestors. Don and his wife Tracee live in Central Florida.
Free Media Mail shipping on U.S. orders over $50