Little Lessons (Hardcover)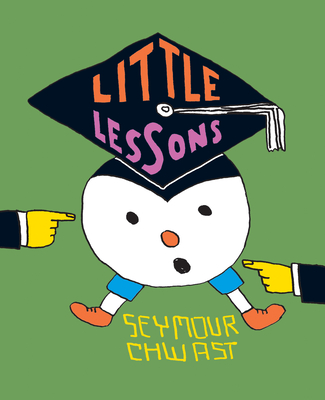 Description
---
Popular sayings from around the world come to life in Seymour Chwast's iconic and humorous design style, perfect for graduates and curious kids.

"If you walk on thin ice, you might as well dance"—this and many other wise sayings from many countries take on a whole new dimension when Seymour Chwast's pen delivers a memorable visual rendition. Life lessons have never been so amusing to think about and maybe even learn from. This colorful book is a perfect gift to spur laughter, learning, and cultural savoir faire for curious kids, graduates, or anyone starting a new chapter. Includes a brief and fascinating afterword explaining the history and staying power of these sayings around the world.
About the Author
---
A master of historical styles and movements, graphic designer Seymour Chwast is famous for his diverse body of graphic design work, illustration, and lasting influence on American visual culture. Chwast is the author of more than thirty children's books, cofounder of the internationally recognized and critically acclaimed Push Pin Studios, winner of the AIGA MEDAL, and a member of the Art Directors Hall of Fame. His work can be found on countless posters, packaging, album and book covers, advertisements and editorial illustrations in the the New Yorker, the New York Times, Forbes, Vanity Fair, The Wall Street Journal, and The Atlantic, among many others.

Praise For…
---
"Proverbs' vivid metaphorical language proves visual catnip for Chwast's graphic design–driven compendiumAbout the pleasure of savoring "little lessons" pleasingly wrought." -- Publishers Weekly

"Offbeat, weird, and wonderful." -- Kirkus Reviews

Free Media Mail shipping on U.S. orders over $75