Uranians: Stories (Hardcover)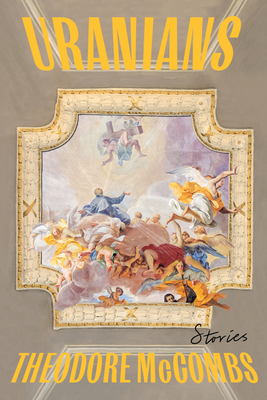 $25.00

Coming soon - PRE-ORDER NOW!
Description
---
"Playful and provocative . . . McCombs's mix of heart and zany ideas is often reminiscent of George Saunders. Readers will find plenty of earthy and unearthly delights."
—Publishers Weekly

"I have been waiting for this sumptuous, prismatic collection for literal years. Theodore McCombs is a poet of queer pasts, presents, and futures, and Uranians is a formidable debut."
—Carmen Maria Machado, author of Her Body and Other Parties

At the end of the Victorian era, a handful of public intellectuals advocated for tolerance of the "Uranian"—a man who loved other men. Some went so far as to propose that these "intermediate sexes" might, in fact, constitute a totally different species, even serve as intrepid guides in our march toward an uncertain future.

The five speculative stories in Theodore McCombs's kaleidoscopic collection span several possible worlds, teasing the boundaries between coexisting realities and taking up the question of queer difference from one surprising vantage after another. In "Toward a Theory of Alternative Lifestyles," a heartbroken gay man waits in line at an exclusive Berlin rave promising visions of parallel lives across the multiverse. In "Six Hangings in the Land of Unkillable Women," at the turn of an alternate 20th century, a policeman's wife feels that if you want an execution done right, you just have to do it yourself. And in the operatic novella "Uranians," an expedition of queer artists, scientists, and one trans priest embark on a lifelong interplanetary voyage that requires them to renegotiate their connections to a remote and hostile Earth, while keeping their ship's biome—and each other—alive.

Each story unfolds with the depth and complexity of an entire universe; each is inhabited by characters learning to divest from a society that has marked and rejected them. Discerning which dreams of Western civilization to hold fast to and which to leave behind, these outsiders set their gazes on new horizons and prepare for the changes to come. Arch but tender, clear-eyed and compassionate, Uranians brilliantly illustrates the vital role that queerness plays in every possible version of our world.

About the Author
---
Theodore McCombs's stories have appeared in Guernica, The Magazine of Fantasy and Science Fiction, and the anthology Best American Science Fiction and Fantasy. Born in Thousand Oaks, California, he is a graduate of the University of California, San Diego, U.C. Berkeley School of Law, and the Clarion Writers Workshop. He lives in San Diego with his partner and their surly old cat and practices environmental law, with a focus on climate change.
Praise For…
---
"The whole collection hangs together as form and content, mind and heart. Beautiful work."
—Kim Stanley Robinson, author of The Ministry For the Future

"If you like stories that linger, that turn over again and again in your mind after you've read them, then this is your book. Such a delight to have discovered this innovative and brilliant new voice.  Such a delight to urge you to the same discovery."  
—Karen Joy Fowler, author of We Are All Completely Beside Ourselves

"Exquisite, unsettling, richly felt stories, in which both tenderness and the possibility of estrangement open up doors to the fantastic and the surreal." —Kelly Link, Pulitzer Prize finalist and author of Get in Trouble

"One enters Uranians like a trap door into an alternate reality, but slowly the stories reveal themselves as an uncanny valley not far from where we actually stand. With great intelligence, beautiful prose, and a keen eye for our deep-seated anxieties, McCombs draws worlds—past, present, and future—in which capitalism-assisted technologies and patriarchy-induced paranormalities have taken control, rendering us unrecognizable to one another. These are extraordinary tales of anti-heroes in post-apocalyptic and macabre landscapes who must battle systems to find their liberation and in the process illuminate our own. McCombs has written an absorbing and thought-provoking debut collection."
—Alejandro Varela, National Book Award finalist and author of The Town of Babylon

"There's a certain pleasure to reading a writer that has mastered his craft. Every beautifully-constructed, razor-sharp story in this collection is an arrow on a perfect path. Theodore McCombs never misses."
—Cadwell Turnbull, author of No Gods, No Monsters

"[An] enthralling collection . . . these stories are compassionate, finely wrought, and unique."
—David Vogel, BuzzFeed

"The most engrossing collection of short stories I've read in years. Intelligent and probing, these stories consider what it's like to move through the world as one who is 'other,' specifically focusing on queer people. Heartfelt and thoughtful, with fully realized worlds and complex characters, I loved every minute I spent reading Uranians."
—David Vogel, Literati Bookstore
Free Media Mail shipping on U.S. orders over $50