Fires, Floods, Explosions, and Bloodshed: A History of Texas Whiskey (Paperback)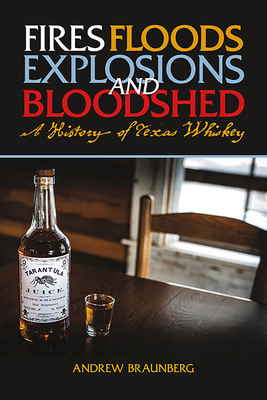 $16.95

Ships from warehouse to store in 3-6 business days
Description
---
When Americans settled Texas in the 1830s, they brought their booze with them and found some made by the locals when they got here! Before long, the Lone Star State had a thriving distillery business, more than a century ahead of modern craft distillers that are changing the face of the spirits industry today. This is a fascinating history filled all too frequently with floods, fires, explosions, and lots of bad luck. Had the development of Texas happened a little differently, the state might have well become a major whiskey producer intertwined with barbed wire, refrigeration, cattle, railways, oil, and cooperage all coming into play.
Texas distilling is older than both the American and Texan Republics, but the history of transforming grains into whiskey in Texas goes back to at least the early 1840s. No spirit is more associated with the state's frontier history than American whiskey. But even during its wildest days, there was a vocal prohibitionist element in Texas that was working to outlaw distilleries, and more importantly, close the saloons. Texas distillers also made liquor for the Confederate war effort, and operations in Tyler and near present day Denison played an often-overlooked role in supporting the troops in the field with medicinal whiskey. After the war, home-grown Texas whiskey found a market and seemed destined to takes its place among the great American spirits of its day.
About the Author
---
ANDREW BRAUNBERG is the co-founder of Still Austin Whiskey Co. His background in Engineering Physics, Science Technology, and Public Policy, as well as his business experience, makes him a highly regarded expert, analyst, and consultant across the distilling industry.
Free Media Mail shipping on U.S. orders over $75
"Ships from warehouse" books to be shipped: order by Wednesday, 12/6
"Ships from warehouse" books for pickup: order by Tuesday, 12/12