19 Souls (Sin City Investigation #1) (Paperback)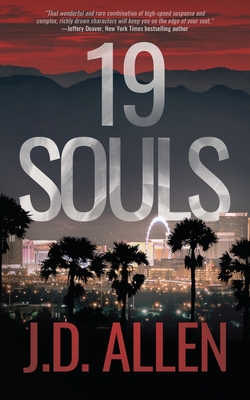 $17.99
Available from warehouse in 1-5 business days
Other Books in Series
This is book number 1 in the Sin City Investigation series.
Description
---
"That wonderful and rare combination of high-speed suspense and complex, richly drawn characters will keep you on the edge of your seat." ―Jeffery Deaver, New York Times bestselling author
Her bloody finger left a translucent smear on the phone screen as she glanced through the list of private investigators in Vegas. Her stained nail came to rest on Sin City Investigations.
Jim Bean would serve her well.
Private investigator Jim Bean is a straightforward, to-the-point man. He likes his cases to follow suit. But when his latest client, Sophie Evers, asks him to find her brother Daniel, Jim has no idea how complicated his life is about to become.
As he falls deep into a manipulative game of cat and mouse, Jim uncovers the horrible truth about Sophie. Now he must set things right before her plan leads to the loss of innocent souls . . . even more than it already has.
_________________________________
Praise for J.D. Allen and 19 Souls:
"This is an unflinchingly gritty tale, wonderfully written and wholly satisfying." ―Bolo Books
"The setup is so good, and the characters so hard to look away from... All in all, a fine thriller." ―Booklist
"Overall, a must read for thriller fans and perhaps the best PI story we have read this year so far." ―Mystery Tribune
"Twisty, authentic, and constantly surprising JD Allen nails her debut with this top-notch thriller―it's gritty, smart and irresistible." ―Hank Phillippi Ryan, nationally bestselling author
"19 Souls is one terrific read. With a great plot, engaging characters, and a crackling voice, this book has everything. I dare you to put it down after you start reading." ―John Gilstrap, New York Times bestselling author
"Her plotting and pacing will keep you up long after Proust and Henry James have rocked you to sleep. Stay tuned for a series that promises many, many more troubled dreams." ―Kirkus Reviews
"Bean's inner and outer dialogue is quick, snappy, and authentic to the profession. The pace is earnest, as leads, tips, and information eventually congeal into answers; final pages are highly suspenseful and dramatic. 19 Souls introduces a memorable PI, grappling with a past he's not reconciled to." ―Foreword Reviews
_________________________________
What readers are saying:
★★★★★ "Can't wait for the next Sin City Investigations "
★★★★★ "...it drew me in immediately and never let go."
★★★★★ "From the first sentence to the last, a truly riveting, intriguing, intoxicating work."
★★★★★ "Could not put this one down..."
★★★★★ "Keeps you on the edge of your seat until the very end."