The New York Times Essential Book of Cocktails (Second Edition): Over 400 Classic Drink Recipes With Great Writing from The New York Times (Hardcover)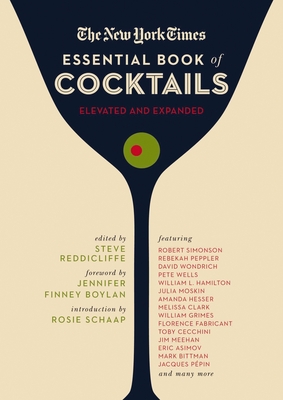 Description
---
This updated edition contains more than 400 classic and contemporary craft cocktail recipes, paired with exceptional writing and the authoritative voice of The New York Times.

Cocktail hour is one of America's most popular pastimes and a favorite way to entertain. What better place to find the secrets of craft cocktails than The New York Times? Steve Reddicliffe, the "Quiet Drink" columnist for The Times, brings his signature voice and expertise to this collection of delicious recipes from bartenders from around the world, with a special emphasis on New York City.

This informative guide includes:

- Classics such as the Martini, Manhattan, Old Fashioned, and Negroni, served both straight up and with modern twists
- New imaginative favorites inspired by the craft-distilling boom
- Auxiliary recipes for signature ingredients, including brandied cherries and brown-butter bourbon, plus recipes for cordials, shrubs, bitters, and more
- New chapters on non-alcoholic drinks, bourbon cocktails, and vermouth cocktails
- A complete guide to home entertaining, setting up your personal bar, and how to build your own cocktail encyclopedia
- Engaging essays from the biggest names in cocktail writing
- Original interviews with ten bartenders and spirits professionals, including Ivy Mix of Leyenda in Brooklyn, Sother Teague of Amor y Amargo in Manhattan, and Victoria Eady Butler, master blender of Uncle Nearest bourbon

Reddicliffe has carefully curated this essential collection, with memorable writing from famed New York Times journalists like Craig Claiborne, Toby Cecchini, Eric Asimov, Rosie Schaap, Robert Simonson, Melissa Clark, William L. Hamilton, Jonathan Miles, Amanda Hesser, William Grimes, and many more. Discover over 400 recipes and the wit and wisdom of decades of this venerable paper's best cocktail coverage.
About the Author
---
Steve Reddicliffe is the deputy Travel editor of The New York Times.
Free Media Mail shipping on U.S. orders over $75
"Ships from warehouse" books to be shipped: order by Wednesday, 12/6
"Ships from warehouse" books for pickup: order by Tuesday, 12/12