The Many Assassinations of Samir, the Seller of Dreams (Hardcover)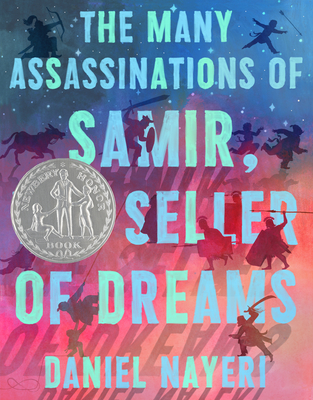 Staff Reviews
---
Action and adventure filled. Frightening and funny. It grabs you from the first sentence and takes you on a wild ride! Ages 10+.
— Abbe
Description
---
The Silk Road comes to life in this picaresque epic adventure with twists and turns and a wonderful surprise ending from Printz Medalist Daniel Nayeri

This is the tale of an exciting journey along the Silk Road with a young Monk and his newfound guardian, Samir, a larger than life character and the so-called "Seller of Dreams". The man is a scammer; his biggest skill being the ability to talk his way into getting what he wants. While that talking did save Monkey's life, it has left a lot of people furious with Samir— furious enough to hire assassins. Monkey decides to try and save Samir from the attempts on his life—as a way to pay off his debt! If he can save Samir six times, he'll be a free man...but will they all survive that long?

Fans of Salman Rushdie's Haroun and The Sea of Stories and The Little Prince will fall in love with the bond between Monkey and Samir—in this swashbuckling all-ages page-turner from national bestseller Daniel Nayeri and featuring full-color illustrations from Daniel Miyares.

P R A I S E

"Adventurous, funny and nimble. Daniel Nayeri understands this relationship between storytelling and magic, and finds every opportunity to celebrate it. "
—TheNew York Times

"Daniel Nayeri and artist Daniel Miyares conjure a richly colored 11th-century realm of merchants and swindlers, camels and donkeys, caravanserai and spice bazaars, and the gaudiest array of mercenaries ever assembled in a book for young readers."
—The Wall Street Journal

★ "Filled with the multicultural hustle and bustle of the Silk Road, enlivened by the unpredictable nature of unreliable storytellers, and adorned with whimsical, colorful illustrations, this is a strange, wondrous, and creative tale. Can family be found along the Silk Road, or will everyone ultimately betray you? An enticing taste of a rich historical world."
—Kirkus (starred)

★ "Readers will find more than expected, including tender philosophies, complex characterizations, heaps of humor, a masterful twist, and most importantly, just a great story, beautifully told."
—Booklist (starred)

★ "Blends playful humor, solid pacing, and fully realized characters into a witty, assassin-studded traveler's yarn that also serves as a memorable, lively portrait of the 11th-century Silk Road."
—Publishers Weekly (starred)

"Nayeri's immersive writing style brings a you-are-there energy to the depiction of the harsh but gorgeous environment of the Silk Road, and an informative author's note further details the geography of the trail, its economic and social value, and the many people who traversed it. The book ends with a simple but profound reminder that love comes in many forms, it is almost always messy and unpredictable, and it is almost always worth every effort toward it."
—BCCB

"Daniel Nayeri has a gift. The child that reads this will not forget it, and how many books that come out for this age range can say the same? Is there anything else out there like it? I will simply say this: If you hand this book to someone, they will definitely have an opinion of it. You may, in fact, end up loving it in the end, or cursing it to the heavens. A tome with a soul tied inextricably to that of its titular character. Better read it."
—Betsy Bird, SLJ's Fuse 8 Blog
About the Author
---

Daniel Nayeri was born in Iran and spent a couple of years as a refugee before immigrating to Oklahoma at age eight with his family. His autobiographical novel, EVERYTHING SAD IS UNTRUE (A True Story) was the winner of the Michael L. Printz Award, the Christopher Medal, and the Middle Eastern Book Award. He is a former publisher, editor, and pastry chef. He lives with his wife and son in an Airstream in one of America's great National Parks.

Daniel Miyares is a critically acclaimed picture book author and illustrator. Some of his books include: Float, Night Out, That is My Dream, and Bring Me A Rock!. Daniel has been called "…a master of visual storytelling."- Jody Hewston, Kinderlit, and "…enchanting, versatile" – The New York Times. He believes that our stories have the power to connect us all. Daniel's story currently takes place in Lenexa, KS with his wife, their two wonderful children, and a dog named Violet that gives them all a run for their money.
Praise For…
---
[STAR] "Filled with the multicultural hustle and bustle of the Silk Road, enlivened by the unpredictable nature of unreliable storytellers, and adorned with whimsical, colorful illustrations, this is a strange, wondrous, and creative tale. Can family be found along the Silk Road, or will everyone ultimately betray you?" — Kirkus (starred)

[STAR] "Readers.. will find more than expected, including tender philosophies, complex characterizations, heaps of humor, a masterful twist, and most importantly, just a great story, beautifully told."— Booklist (starred)

[STAR] "Nayeri blends playful humor, solid pacing, and fully realized characters into a witty, assassin-studded traveler's yarn that also serves as a memorable, lively portrait of the 11th-century Silk Road. Richly hued art by Miyares and expansive back matter enhance the delight." — Publishers Weekly (starred)

Most Anticipated Children's Books of 2023 - BookPage

"An excellent classroom or family readaloud…Nayeri's immersive writing style brings a you-are-there energy to the depiction of the harsh but gorgeous environment of the Silk Road." — Bulletin of the Center for Children's Books

"Adventurous, funny and nimble. Daniel Nayeri understands this relationship between storytelling and magic, and finds every opportunity to celebrate it. " — New York Times

[STAR] "An epic ­adventure with an enduring message about love and family."— School Library Journal (starred)

"Daniel Nayeri and artist Daniel Miyares conjure a richly colored 11th-century realm of merchants and swindlers, camels and donkeys, caravanserai and spice bazaars, and the gaudiest array of mercenaries ever assembled in a book for young readers."—Wall Street Journal
Free Media Mail shipping on U.S. orders over $50