Indigo Field (Paperback)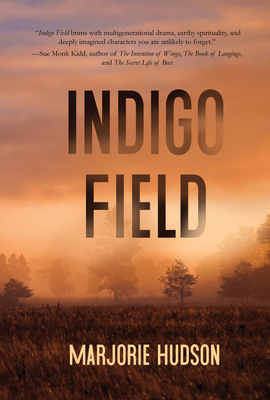 Staff Reviews
---
This is an important and gorgeous piece of writing that should not be missed. This is a book that will be getting lots of attention and should win a major award. 
— Sarah G
Several of us at QRB (including Nancy who probably hand-sold more copies than anyone in the world!) loved Marjorie Hudson's collection of short stories, Accidental Birds of the Carolinas. If you haven't read it, please do so while waiting for her new novel, Indigo Field, which features some of the characters in those remarkable stories. Marjorie knows how to weave beautiful words into compelling action. You won't want to put this one down until you turn the final page! 
— Mamie
Description
---
"Indigo Field brims with multigenerational drama, earthy spirituality, and deeply imagined characters you are unlikely to forget." —Sue Monk Kidd, author of The Invention of Wings, The Book of Longings, and The Secret Life of Bees
In the rural South, a retired colonel in an upscale retirement community grieves the sudden death of his wife on the tennis court. On the other side of the highway, an elderly Black woman grieves the murder of her niece by a white man. Between them lies an abandoned field where three centuries of crimes are hidden, and only she knows the explosive secrets buried there. When the colonel runs into her car, causing a surprising amount of damage, it sparks a feud that sets loose the spirits in the Field, both benevolent and vengeful. In prose that's been called "dazzling" and "mesmerizing," in the animated voices of trees and birds and people, in Southern-voiced storytelling as deeply layered as that of Pat Conroy, Marjorie Hudson lays out the boundaries of a field that contains the soul of the South, and leads us to a day of reckoning.
About the Author
---
Award-winning author Marjorie Hudson was born in the Midwest, raised in Washington, DC, and now makes her home in North Carolina. She is author of Accidental Birds of the Carolinas (stories) and Searching for Virginia Dare (history/travelogue), and her essays and stories plumb the depths of the human heart. She lives on a century farm with her husband Sam and dog DJ, where she mentors writers and reads poetry to trees.
Praise For…
---
"Indigo Field brims with multigenerational drama, earthy spirituality, and deeply imagined characters you are unlikely to forget. In tightly compressed, poetic language, Hudson weaves a mesmerizing story of loss, injustice, and revenge conspiring to darken the human heart—and the redemptive and unexpected ways the light comes in." —Sue Monk Kidd, author of The Invention of Wings, The Book of Longings, and The Secret Life of Bees
"Indigo Field gives us genius in the ancient sense of that word—the spirit animating a place. Marjorie Hudson is a spiritual geographer, charting the landscape of a changing Carolina community and its intertwined lives, past and present, Black and white, rich and poor. The ancient pines on Gooley Ridge overlook Indian burials and bank foreclosures, bird and people migrations, secret murders and delayed vengeance, sweet love scenes and brutal assaults. Like Pat Conroy before her, Hudson writes up a mighty storm in this moving and satisfying novel." —Dale Neal, author of Appalachian Book of the Dead
"Marjorie Hudson's stunning debut novel, Indigo Field, conjures a world anchored in the people and soil of the 'land between two rivers' in North Carolina. Like the deep roots of the ancient Gooley Pines know the depths of this soil, only one elder knows the depths and connections of history, love, and tragedy concealed in this blood-soaked abandoned field. Revealed here in lush, evocative prose and unforgettable characters, Hudson's tale intertwines old dispossessions with new losses, upscale retirees with longtime farmers, Black with White, foolish ignorance with startling revelation. As storytelling peels back each layer of history and memory, and present-time lives are called to acts of vengeance or courage, a wise woman reminds, 'There are moments in life in when everything you do makes a difference.' This novel brings a reckoning, now face-to-face, for the unspoken rage of the dispossessed. It is a book of Old Testament wrath and New Testament forgiveness, and the storm that's coming bears more on its winds than any weather forecast can foresee. A magnificent, magical debut." —Valerie Nieman, author of In the Lonely Backwater and To the Bones
"In so many ways, Marjorie Hudson's Indigo Field is a transcendent book, a rich and beautiful tapestry, woven with dazzling craft and an artist's touch. Deep, resonant characters and a powerfully human story lay the truth before us: More than all our differences, we are part of one whole that is both past and present, young and old, living and dead, spirit and fundament, man-made and born in nature. This novel will take you deep and send you soaring. It may be the most definitive novel ever written about North Carolina. But it is more than that; it's a story for all time." —Walter Bennett, author of Leaving Tuscaloosa, winner of the Alabama Author's Award, and The Last Kiss
"Indigo Field is a rich tapestry of history and nature, and the many vivid characters who have lived in that place. From life in a contemporary retirement village to long forgotten graves and secrets of prior generations, Marjorie Hudson takes us on a compelling and surprising journey as these unlikely characters come together in moments of shelter and grace." —Jill McCorkle, author of Hieroglyphics, Life After Life, and Going Away Shoes
"
Indigo Field
showcases one of the rising novelists of the American South. Marjorie Hudson is a master storyteller like Bobbie Ann Mason; her characters come alive and engage the reader. Hudson vividly creates a sense of place with exposition as rich as any of Eudora Welty's fiction. This novel belongs in classrooms as well as libraries, weaving history, empathy, and spirituality." —
Lenard D. Moore, author of Long Rain
"Get ready to be swept off your feet by Marjorie Hudson's glorious big-hearted novel
Indigo Field
. I love this book, and every time I read it, I am filled with admiration and wonder." —Helen Fremont, national bestselling author of 
After Long Silence
and 
The Escape Artist
"Hudson digs beneath the surface of the contemporary Southern world and raises up stories long repressed—stories of Indigenous and Black heritage—each character on a journey of transformation in the shimmering world of a wild pasture filled with rising spirits." —Lalita Tademy, New York Times bestselling author of
Cane River
, an Oprah selection,
Red River
, and
Citizens Creek
Free Media Mail shipping on U.S. orders over $75
"Ships from warehouse" books to be shipped: order by Wednesday, 12/6
"Ships from warehouse" books for pickup: order by Tuesday, 12/12