What Disappears (Paperback)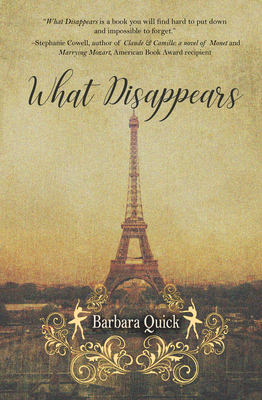 Description
---
What Disappears is a gripping multi-generational tale that begins in 1880s Tsarist Russia and ends in Paris at the start of World War I. Jeannette Dupres, one of two identical twins born to a Jewish family in dire financial straits, is spirited out of an orphanage as an infant by a couple from France. The other twin, Sonya Luria, raised to believe her sister died at birth, has her life upended by the 1903 pogrom in Kishinev. The sisters are reunited in the doorway of Anna Pavlova's dressing-room, when they both get jobs in Paris with Sergei Diaghilev's Ballets Russes, Sonya as a seamstress and Jeannette as an extra ballerina. In a relationship that ebbs and flows as it evolves, the twins' deepest, darkest secrets are revealed, affecting not only them but also leaving their mark on the lives and fates of Sonya's three daughters. Peopled by the greatest dancers, artists, writers, designers, and trend-setters of the Belle Époque, What Disappears explores the ways in which girls and women define their identity and search for meaning in a world that tries at every turn to hold them back.
About the Author
---
Three-time novelist and widely anthologized poet Barbara Quick has a worldwide readership. Her 2007 novel from HarperCollins, Vivaldi's Virgins, was published in a dozen languages, made into an audiobook, and optioned for a mini-series. Her debut novel, Northern Edge, won the Discover: Great New Writers Prize. Her poetry chapbook, The Light on Sifnos, was awarded the 2020 Blue Light Press Poetry Prize. She lives with her husband on a farm and vineyard in Northern California.
Praise For…
---
"Gorgeously written and daring in scope of drama from the poverty and pogroms of Russia to the fraught, exquisite world of divine fashion and the Ballets Russes of Paris 1909, What Disappears follows the poignant story of identical twins separated at nine months in a world that is changing rapidly. One sister clings to her difficult life as a dancer; the other who has lost both her great loves, struggles on with her three daughters. Between breathtaking scenes of betrayal, danger and perfect love found and lost, little is as we expect it as the twins reunite in Paris. One sister is the quiet steadfast heart of this story and the other its restless discontent. Some dreams shatter, and other come true in a way you never could have expected. What Disappears is a book you will find hard to put down and impossible to forget." —Stephanie Cowell, American Book Award recipient and author of Claude & Camille: A Novel of Monet and Marrying Mozart

 

"What Disappears is a tour de force. With a dancer's grace, agility and subtlety, Barbara Quick creates indelible scenes that unfold as her characters, both famous and fictional, discover the fragility of their deepest core values. I couldn't turn the pages fast enough to keep up with my own racing mind! How do we use the artistic self to cover or costume or hide? In this author's hands, twin-hood becomes a metaphor for the conflict between a stage persona and an offstage one. I shivered with recognition at her portrayal of the male ego, presumption, oblivion and rational thought being clouded by carnal or artistic desires. Any dancer or athlete will resonate with these characters' use of physical work to staunch or avoid the excruciating reality of emotional pain. The historic figures in the book— Diaghilev, Nijinsky, Pavlova, Karsavina, and titans of the fashion world— become ever more real through the way Quick illustrates the turmoil and self-doubt of the artistic mind, regardless of the artist's fame. Quick reveals symbolism threaded through these characters' lives that sheds light on our own in the way only great literature can do. Are we all performing our way through life--running from whatever demons we carry around inside us… straight into the arms of death? By the end of this masterful work, we can indeed understand that when our inner and outer selves reconcile, what disappears is in fact what remains." —Gavin Larsen, author of Being A Ballerina: The Power and Perfection of a Dancing Life

 

"Barbara Quick is at the height of her powers in her newest novel, an epic narrative of the ballet world, European history and high fashion. Her characters are so real – so vital – they seem to say, Come toward us and see what's inside! And we do, following them with fascination one by one. The plot crosses back and forth across continents and time to braid an intergenerational story with unflagging momentum and gripping emotional appeal. Like her 2007 novel Vivaldi's Virgins, What Disappears sings with musical complexity and vivid sensuality." —Grace Cavalieri, Maryland Poet Laureate

"In What Disappears, Barbara Quick spreads before the reader a banquet of secrets, jealousy, betrayal, genius, high fashion, loss, tragedy and poignant regrets peppered with fascinating historical details and cameo appearances by some of the most famous ballerinas, writers, and artists of the nineteenth and twentieth centuries. A cinematic novel, which cuts between Russia and Paris, past and future, fear and desire, What Disappears has a rich plot filled with enough reversals, revelations, and unexpected twists to keep readers turning its pages long into the night." —Mary Mackey, New York Times bestselling author of A Grand Passion

"Set in both Paris and Russia, this historical novel follows the twins' journeys, both in the present and in the past, to tell a poignant story of love, loss, betrayal, and sisterhood." —Tessa Terry, Booklist reviewer
Free Media Mail shipping on U.S. orders over $50
Christmas ordering guidelines
"Ships from warehouse" items to be shipped: Order by Monday, 12/5
"Ships from warehouse" items to be picked-up in store: Order by Monday, 12/12
On hand items: We'll pull items in order of orders received, so keep them coming!