Desolation Peak: Collected Writings (Hardcover)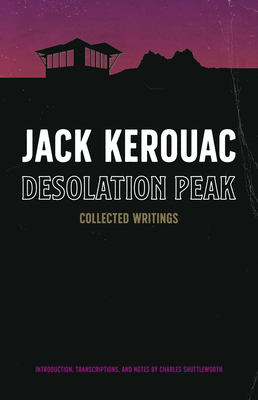 Staff Reviews
---
In 1956, Jack Kerouac spent the majority of that summer working as a fire lookout atop Desolation Peak in the North Cascade Mountains of Washington State. Despite earlier albeit limited brushes with literary success, Kerouac still felt that he had yet to achieve the literary success that he sought. The solitude of that time allowed Kerouac to focus inward and re-dedicate himself to a new style of writing immortalized in 1957's On The Road.
Desolation Peak gives readers a glimpse into Kerouac's life and thoughts while unknowingly on the cusp of literary superstardom.
— Bud
Description
---
"Something will happen to me on Desolation Peak...I can feel it."

In the summer of 1956, Jack Kerouac hitchhiked from Mill Valley, CA, to the North Cascades to spend two months serving as a fire lookout for the US Forest Service. Taking only the Diamond Sutra for reading material, he intended to spend his time in deep contemplation and to achieve enlightenment. He wrote in his journal that he planned "to concentrate on emptiness of self, other selves, living beings, and universal self." In letters to friends he proclaimed, "Something will happen to me on Desolation Peak...I can feel it."

Kerouac's experience on Desolation Peak forms the climax of his novel The Dharma Bums and has also been depicted in part 1 of Desolation Angels and a chapter in his nonfiction book Lonesome Traveler. None of these versions offers a full, true picture, however; and for that reason, Desolation Peak is essential reading. What separates Kerouac from all other writers is the depth that he went in exploring his own consciousness, and what will prove his most enduring legacy is the record he left of that exploration, revealing the psyche of a sensitive, tortured artist grappling with himself in the mid-20th Century.
The highlight of Desolation Peak is the journal he kept, starkly revealing the depth of his poverty, the extremity of his mood swings, and the ongoing arguments with himself over the future direction of his life, his writing, and faith. Along with the journal, he worked on a series of projects, including "Ozone Park," another installment of the Duluoz Legend beginning in 1943, after his discharge from the Navy; "The Martin Family," an intended sequel to The Town and the City, and "Desolation Adventure, " a series of sketches that became part 1 of Desolation Angels, . In writing it, Kerouac was re-committing himself to his more experimental, then-unpublishable style, declaring in the journal that "the form of the future is no-form."
Also included in Collected Writings is "The Diamondcutter of Perfect Knowing," Kerouac's "transliteration" of the Diamond Sutra, his "Desolation Blues" and "Desolation Pops" poems, and assorted prose sketches and dreams.
About the Author
---
Jack Kerouac was born in Lowell, Massachusetts, in 1922, the youngest of three children in a Franco-American family. He attended local Catholic and public schools and won a scholarship to Columbia University in New York City, where he first met Neal Cassady, Allen Ginsberg, and William S. Burroughs. His first novel, The Town and the City, appeared in 1950, but it was On the Road, published in 1957 and memorializing his adventures with Neal Cassady, that epitomized to the world what became known as the "Beat generation" and made Kerouac one of the most best-known writers of his time. Publication of many other books followed, among them The Dharma Bums, The Subterraneans, and Big Sur. Kerouac considered all of his autobiographical fiction to be part of "one vast book," The Duluoz Legend. He died in St. Petersburg, Florida, in 1969, at the age of forty-seven.Charles Shuttleworth has been studying the work of Jack Kerouac since the late-1980s and first taught a senior elective course on Kerouac and the Beat Generation at the Horace Mann School in New York City in 1994. That year he researched Kerouac's experience at Horace Mann by interviewing three dozen of Kerouac's former classmates (then in their 70s) and presenting his findings at the NYU Conference that Spring. He currently teaches Kerouac and the Beats at the Harker School in San Jose, CA. His ongoing research has been published in Beat Scene (Issues 93, 97, 98, 99), and he was the Parker lecturer for the 2020 Lowell Celebrates Kerouac Festival.
Free Media Mail shipping on U.S. orders over $50