Together (Board book)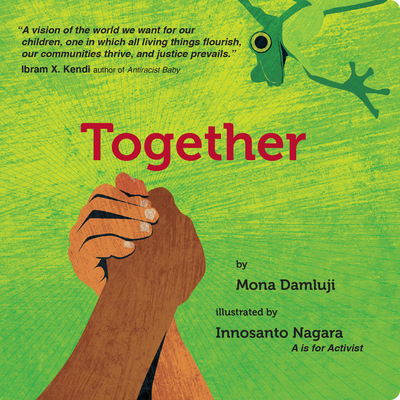 $12.95

Ships from warehouse to store in 3-6 business days
Description
---
A breathtakingly simple poem of universal experience shows us the transformative power of collective action.

"Together offers a vision of the world we want for our children, one in which all living things flourish, our communities thrive, and justice prevails." --Ibram X. Kendi, author of Antiracist Baby

In Together, social justice kids book pioneer Innosanto Nagara teams up with poet and activist Mona Damluji for a stunningly tender and pitch-perfect visual feast that juxtaposes individual action with the power of people acting together. Each of the ten free-verse couplets in the poem is spread across four pages of imagery, to make a unique and different kind of board book for young kids to discover with their families.

The first illustrated book in which Nagara applies his extraordinary visual imagination to words not his own, Together is simplicity itself--a poem about the transformational change that happens when people stop acting alone and start doing things together. Together is Nagara's third board book, following the immensely popular social justice board books A is for Activist and Counting on Community.
About the Author
---
Mona Damluji writes, studies and teaches about oil cultures, cinema history and the Middle East as an assistant professor at UC Santa Barbara. She is a co-producer of the Peabody and Emmy-nominated web series The Secret Life of Muslims, and has curated exhibits and events around the globe that feature path-breaking art, film, photography, and comics. Mona and her partner live in California with their two hilarious children.

Children's book author and illustrator Innosanto Nagara is also a graphic designer and founder of the Design Action worker-owned cooperative design studio in Oakland. He lives in a co-housing community and teaches and trains martial arts at a collectively run dojo. He is the author of six books for children, the first of which, A is for Activist, is credited with starting the movement in social justice book publishing for children. His other books are Counting on Community, My Night in the Planetarium, The Wedding Portrait, M is for Movement, and Oh, the Things We're For!
Praise For…
---
"Together offers a vision of the world we want for our children, one in which all living things flourish, our communities thrive, and justice prevails." 
—Ibram X. Kendi, author of Antiracist Baby

"A stunningly beautiful book about unity and hope. Together belongs in every home and every classroom."
—Matt de la Peña, author of the Newbery Award-winning Last Stop on Market Street and Milo Imagines the World

"How can we raise our children to believe deeply in the power of collective action to build a more just and equitable world? We can start by reading this beautiful book with them, and celebrating, together, the boundless possibilities of a society centered upon love."
—Ady Barkan, activist and author of Eyes to the Wind

"A window into a world our children deserve. It's a world full of love, compassion and solidarity. This book shows us our potential when we come together. It is a gift to every child."
—Linda Sarsour, director, MPower Change and Co-Founder, Women's March 

"This beautifully written poem along with its gorgeous illustrations has a message: Working together is more powerful than the acts of a single individual. The poem touches on trees, birds, bees, voices,
instruments, and mountains to show their power when they act or stand together. The book is ideal for children in preschool through high school. Unfortunately, it has not yet been published in a larger picture book format, which would lend itself more easily to read-alouds in elementary classrooms." [Note from publisher: a picture book edition will be published in Spring 2023.] —Rethinking Schools

"Innosanto Nagara's] art brings Mona Damluji's words to life in the most beautiful and powerful way possible. ... What could be better than a resource that teaches how we can work together and imagine the possibilities of a brighter and more just future?"
—The Tiny Activist

"This board book by Damluji emphasizes the ways in which the collective can offer more than the singular in simple, spreads-spanning phrases that range from the more physically evident ("One voice sings a tender song// And when voices sing together/ they make harmony") to the more emotionally abstract ("One of us can love with all our heart// And when we love together/ we build community"). The repetition of "One...// And... together" establishes a rhythm ideal for readalouds while emphasizing interconnectivity, strength in numbers, compassion, and justice. Nagara's recognizable, textured style offers spreads united by an enigmatic frog motif and featuring people of varying abilities, ages, skin tones, and religions; many spreads centering togetherness emphasize the warmth of interpersonal relationships."
—Publishers Weekly

"A masterpiece that distills the most important message we can teach our children today: we are stronger, more powerful and more beautiful together."
—Annie Leonard, director, Greenpeace U.S.A.

"A beautiful celebration of collective action and power, at once playful and profound. The perfect message to share with the little ones who will shape tomorrow's movements. A true treasure. "
—Naomi Klein, author of This Changes Everything

"A message in the darkness, reminding us of our history, and our future. When we choose to come together, we find we are not alone!" 
—Severn Cullis-Suzuki, activist and founder of the Environmental Children's Organization

Free Media Mail shipping on U.S. orders over $75
"Ships from warehouse" books to be shipped: order by Wednesday, 12/6
"Ships from warehouse" books for pickup: order by Tuesday, 12/12