This Isn't Going to End Well: The True Story of a Man I Thought I Knew (Hardcover)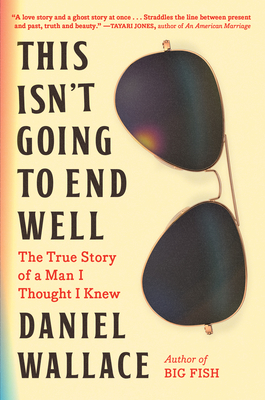 Staff Reviews
---
How well do we know those closest to us? And what do they owe us, and we them? 
This Isn't Going to End Well, Daniel Wallace's deeply personal account of his decades of near-worship of his brother-in-law, replaced by a cold bitterness, had me asking these questions. I at times felt as if I was reading an intensely personal journal not meant for anyone's eyes except those of the writer's future self. 
Wallace lays bare his decades of admiration for his sister's husband, a legendary artist and outdoorsman with near-cult status, that turned to cold, grim anger for an act that Wallace saw as an unforgivable betrayal.
In trying to understand the man he thought he knew, Wallace explores his own dark inner chambers, a painful struggle toward a better understanding of himself. 
This memoir is an immersive read of one man's journey through anger and bewilderment toward forgiveness, a path not easy for him to forge or the reader to witness him doing, but well worth the effort.
— Belinda
Daniel Wallace's newest work is a combination memoir and biography, telling his own story alongside that of friend and brother-in-law, William Nealy. This Isn't Going To End Well begins in 1970s Alabama capturing laissez-faire parenting, and the idleness and creativity of childhood at the time. Fast forward to our beloved Chapel Hill, the book moves from adolescence to adulthood, asking the question: How well do we ever really know someone?
Wallace makes you feel like you are sitting with an old friend, reminiscing. The people rattle around in your head, and the writing is clean and clever. An especially great read for outdoor enthusiasts and artists, writers and lovers. Wallace has written a story of family, adventure, following your dreams, and sadly, tragedy. 
This Isn't Going To End Well is gentle and kind, even when life is not. 
— Peggy
Description
---
"A memoir wrapped in an elegy… [that] maps a strangely stunning life… [Wallace] imbues this chronicle with tremendous compassion — for William, for everyone. This Isn't Going to End Well gives off the particular radiance of a life lived hard, whatever else: as such, a brand of American bildungsroman. There's deep satisfaction to its arc, despite its inherent sadness — a wondrous glimpse of the melding, in human doings, of fate, character and serendipity."―Washington Post

"Daniel Wallace has, once again, shown himself to be an exquisite storyteller.  Like bourbon, this book goes down hot and strong but finishes with a salving sweetness which can only be called a blessing.  A love story and a ghost story a once, This Isn't Going to End Well straddles the line between present and past, truth and beauty."―Tayari Jones, author of An American Marriage

A profoundly moving, large-hearted, genre-bending memoir from the bestselling author of Big Fish.

If we're lucky, we all encounter at least one person whose life elevates and inspires our own. For Daniel Wallace, that was his longtime friend and brother-in-law, William Nealy. Seemingly perfect, impossibly cool, William was James Dean, Clint Eastwood, and MacGyver all rolled into one: an acclaimed outdoorsman, a famous cartoonist, an accomplished author, a master of all he undertook. William was the ideal that Daniel sought to emulate, and the person who gave him the courage to become a writer.

But when William took his own life at age forty eight, Daniel's heartbreak led him to commit a grievous act of his own, a betrayal that took him down a path into the tortured recesses of William's past. Eventually a new picture emerged of a man with too many secrets and too much shame to bear.

With his first memoir, acclaimed writer Daniel Wallace delivers a stunning book that is as innovative and emotionally resonant as his novels. Part love story, part true crime, part a desperate search for the self, This Isn't Going to End Well tells an intimate and moving story of what happens when we realize our heroes are human.

 
About the Author
---
Daniel Wallace is the author of six novels, including Big Fish, which was adapted and released as a movie and a Broadway musical. His novels have been translated into over three-dozen languages. His essays and interviews have been published in The Bitter Southerner, Garden & Gun, Poets & Writers and Our State magazine, where he was, for a short time, the barbecue critic. His short stories have appeared in over fifty magazines and periodicals. He was awarded the Harper Lee Award, given to a nationally recognized Alabama writer who has made a significant lifelong contribution to Alabama letters. He was inducted into the Alabama Literary Hall of Fame in 2022. He is the J. Ross MacDonald Distinguished Professor of English at the University of North Carolina at Chapel Hill.
Praise For…
---
Named a Most Anticipated / Best of Book of 2023 by Garden & Gun, Goodreads, BookPage, Atlanta Journal-Constitution, Deep South Magazine, & Greenville Journal

"A revelatory and reflective tale about how males perceive others and how they present themselves.  More than anything, I felt compassion for their vulnerability and fear, and made me realize perhaps we are not so different, men and women, after all."—Sandra Cisneros, author of Martita, I Remember You

"In This Isn't Going to End Well, you will find the expected Daniel Wallace clarity, humor, and precision. But you will not find fiction. This is a true story about Daniel himself and his wild-man mentor and relative, William Nealy. Few writers can so seamlessly thread together love, loss, admiration, fear, pain, and hope. And this narrative is not traditional memoir-fare. It moves magically—unlike any traditional genre you've ever read. At times I experienced that thrill-feeling of a roller coaster dropping away from beneath me. This book is a rare gem gift from one of our very best writers."—Clyde Edgerton, author of Raney

"Daniel Wallace has written a ghost story – not the kind you have read before. It is a haunting story about a person he loved and, at times, loathed, who influenced the author's life in ways never to be fully known or seen – a shimmering. Wallace -- whose prose is the truest kind, brave and somewhere between sharp-edged facts and magic -- chooses to "get in the cage with the tiger", in this case, his brother-in-law William Nealy. Nealy is the famed cartoonist, writer, and whitewater adventurer who lived to defy death daily, until he didn't. Wallace takes us to the edge of what scares us, death by suicide, and miraculously (no, skillfully) writes a book on grace.
     This brilliantly layered book is about what calls us to write, create, dance and even destroy those we love. What began as Daniel Wallace's story became my story, too – the writer who lives "in that place between experience and understanding" and is compelled to touch bone regardless of the pain.  I love this book. This Isn't Going to End Well ended too soon -- and like all great ghost stories I want to read it again."—Terry Tempest Williams, author of Erosion – Essays of Undoing

"Daniel Wallace has, once again, shown himself to be an exquisite storyteller.  Like bourbon, this book goes down hot and strong but finishes with a salving sweetness which can only be called a blessing.  A love story and a ghost story a once, This Isn't Going to End Well straddles the line between present and past, truth and beauty."—Tayari Jones, author of An American Marriage

"A memoir wrapped in an elegy… [that] maps a strangely stunning life… [Wallace] imbues this chronicle with tremendous compassion — for William, for everyone. This Isn't Going to End Well gives off the particular radiance of a life lived hard, whatever else: as such, a brand of American bildungsroman. There's deep satisfaction to its arc, despite its inherent sadness — a wondrous glimpse of the melding, in human doings, of fate, character and serendipity."—Washington Post

"A eulogy, a cautionary tale, a love letter and a sob of anger."—New York Times Book Review

"'Unflinching' is a word publishers like to use to describe memoirs. This Isn't Going to End Well deserves the description as Mr. Wallace grapples with the past. It sounds like a heavy read, but it's almost deceptively easy… Masterly."—Wall Street Journal

"A heart-cracking exploration of the ways we construct ourselves, and how, despite any facade, no matter how bold, it can all come tumbling apart."—Garden & Gun

"Exceptional… simultaneously sharp-edged and loving, honest and painfully haunting."—BookPage

"Gripping… A story about the difference between the person we present to the world and the person we really are. It's the gap between those two versions of ourselves that Wallace mines in this warts-and-all love letter to male friendship."—Atlanta Journal-Constitution

"Gracefully written (Wallace is incapable of writing an ugly sentence)… [Wallace] has done a heroic job here of trying to understand what we finally cannot know."—Alabama Public Radio / Don Noble's Book Reviews

"Piercingly sad, but beautiful."—Minneapolis Star Tribune

"A tribute, a memoir and a mystery... Heartbreaking and funny."—WUNC (North Carolina Public Radio)

"[Daniel Wallace] writes like no other Southern writer I've ever read… This Isn't Going to End Well is deeply moving, as any reader of Wallace's fiction would expect."—Salvation South

"[A] brutally honest and true retelling of the life and impact of famous cartoonist William Nealy… championed by [Wallace's] skillful narration and candid voice."—Deep South Magazine

"In exploring his own particularly complicated grief, Wallace reveals his coming of age as a writer, the tragic yet inspiring life of his sister Holly, and a cast of larger-than-life characters as beguiling as any of his fictional inventions… Moving and unforgettable."—Chapter16

"[Wallace] crafts a compelling narrative that pulls the reader headlong into a story whose energy never wanes. He's thoughtful and thought-provoking... and he writes with courage and candor… [This Isn't Going to End Well] is a memoir borne of intense experience and introspection, which is the only available panacea for what troubles us."—PineStraw Magazine

"Gripping... sensitively and respectfully compiled."—Southern Review of Books

"It is not too much of a stretch to call this tale a Shakespearean tragedy. And it is powerfully and eloquently written."—Star News

"[A] moving meditation on memory, mortality, and masculinity and a beautifully written mixture of memoir and true detective story."—Yes! Weekly

"Novelist Wallace (Big Fish) pays loving tribute to his late brother-in-law, William Nealy, in this deeply felt memoir… Wallace's elegiac narrative shimmers with deep admiration for a man who always played by his own rules and stood by the people he loved. This will entrance readers from the first page."—Publishers Weekly

"Wallace's storytelling skill captures the vibrant personality Nealy showed the world, and his emotional candor the tragedy of a good man 'who was toxic only to himself.'"—Booklist

"A bold and compassionate exploration of male friendship and the devastating impact of suicide."—Kirkus Reviews

"[Wallace] oscillates between memoir, elegy, and excavation to recount details, stories, and heartbreaking truths about Nealy—discovering more about his friend in death than he did in life—and reveals intimate, often difficult realizations about himself."—Alta Online

"A mesmerizing combination of memoir and biography."—Largehearted Boy

"This book is much like the belated ceremony Daniel conducted at Holly's gravesite, as an absolution of sorts: a combining of ashes, an offering of grave goods, a willingness to forgive. A veil of secrecy lifted in compassion."—Carolina Paddler

"Vulnerable and engrossing all in one, this is an intensely personal portrait of grief."—Kat Baltisberger, Flyleaf Books, Chapel Hill Magazine

"Wallace makes you feel like you are sitting with an old friend, reminiscing. The people rattle around in your head, and the writing is clean and clever… This Isn't Going To End Well is gentle and kind, even when life is not."—Southern Bookseller Review
Free Media Mail shipping on U.S. orders over $75
"Ships from warehouse" books to be shipped: order by Wednesday, 12/6
"Ships from warehouse" books for pickup: order by Tuesday, 12/12