The World That We Knew (Large Print / Library Binding)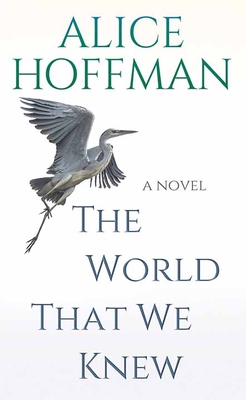 $38.95
Available from warehouse in 1-5 business days
Staff Reviews
---
I thought I was tired of WWII books, but this is a beautiful mix of magical realism, survival, love and adventure that transcends the ugliness of war, the sorrow of separation and celebrates the strength of love—and not just human love.
A Jewish mother sacrifices everything to save her daughter with a magical protector aided by the Huguenots, Jewish resistance groups, Operation Spring Breeze, etc. There is authentic French history surrounding the characters in this novel along with a bit of magic.
Ultimately, the book raises the question of what exactly is the scope of love, what defines humanity, and how does one continue in the face of overwhelming danger. The answer is delivered with a poetic tale that is a delight.
— Anne
I have not been as huge an Alice Hoffman fan as Nancy was but I found her new novel The World That We Knew a beautifully written immersion into a world where the fantastical elements (a golem and a heron are main characters) somehow make the horrors of WWII more real.
— Sarah
October 2019 Indie Next List
---
"Alice Hoffman, author of numerous novels—The Dovekeepers, The Marriage of Opposites, and The Museum of Extraordinary Things, among others—does her magic again with The World That We Knew. This is a story of great love and loss, a story of strong characters who, with heartfelt courage, save others by risking their own lives. The reader is taken on a journey of the world that once was—of memories of a past tainted by hatred during WWII. Alice Hoffman's writing is passionate, poetic, and profound. This novel captivated me from the start and left me spellbound. A must-read!"
— Mollie Loughlin, The Book Vine, Cherokee, IA
Description
---
In Berlin, at the time when the world changed, Hanni Kohn knows she must send her twelve-year-old daughter away to save her from the Nazi regime. She finds her way to a renowned rabbi, but it's his daughter, Ettie, who offers hope of salvation when she creates a mystical Jewish creature, a rare and unusual golem, who is sworn to protect Lea. Once Ava is brought to life, she and Lea and Ettie become eternally entwined, their paths fated to cross, their fortunes linked.