The Progress Illusion: Reclaiming Our Future from the Fairytale of Economics (Paperback)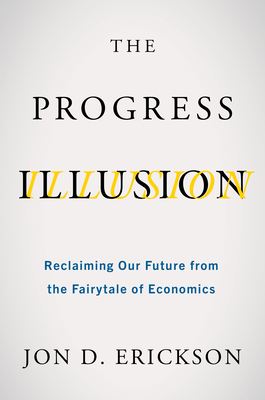 $32.00

Ships from warehouse to store in 3-6 business days
Description
---
We live under the illusion of progress: as long as GDP is going up and prices stay low, we accept poverty and pollution as unfortunate but inevitable byproducts of a successful economy. In fact, the infallibility of the free market and the necessity of endless growth are so ingrained in the public consciousness that they seem like scientific fact. Jon Erickson asks, why? With the planet in peril and humanity in crisis, how did we get duped into believing the fairytale of economics? And how can we get past the illusion to design an economy that is socially just and ecologically balanced?

In The Progress Illusion, Erickson charts the rise of the economic worldview and its infiltration into our daily lives as a theory of everything. Drawing on his own experience as a young economist inoculated in the 1980s era of "greed is good," Erickson shows how pseudoscience came to dominate economic thought. He pokes holes in the conventional wisdom of neo-classical economics, illustrating how flawed theories about financial decision-making and maximizing efficiency ignore human psychology and morality. Most importantly, he demonstrates how that thinking shaped our politics and determined the course of American public policy.  The result has been a system that perpetually concentrates wealth in the hands of a few, while depleting the natural resources on which economies are based.
 
While the history of economics is dismal indeed, Erickson is part of a vigorous reform effort grounded in the realities of life on a finite planet. This new brand of economics is both gaining steam in academia and supporting social activism. The goal is people over profit, community over consumption, and resilience over recklessness. Erickson shows crafting a new economic story is the first step toward turning away from endless growth and towards enduring prosperity. 
About the Author
---
Jon D. Erickson is the Blittersdorf Professor of Sustainability Science and Policy at the University of Vermont, faculty member of the Rubenstein School of Environment and Natural Resources, and Fellow of the Gund Institute for Environment. His previous co-authored and edited books include Sustainable Wellbeing Futures, The Great Experiment in Conservation, Ecological Economics of Sustainable Watershed Management, Frontiers in Ecological Economic Theory and Application, and Ecological Economics: A Workbook for Problem-Based Learning.
Praise For…
---
"Erickson's cri de coeur is bracing and coherent. Progressives should take heed."
— Publishers Weekly
"I strongly recommend
The Progress Illusion
for upper level undergraduates and graduate students studying economics and for professors who teach economics. This highly readable book provides a refreshing alternative to the dominant value-free, market-oriented, and growth-obsessed neoclassical theory. In particular, the book is ideal for a course in ecological economics or sustainability. The passages on climate change underscore the need for combining natural science with social science for greater resilience and for the transition to renewable energy, which is necessary to save the planet."
— Sustainability and Climate Change
"Erickson's powerful new book shows how flawed economic thinking has shaped not only our economy but also our society and politics. The story is both deeply disturbing and hopeful, as Erickson describes an emerging brand of economics that shifts focus from GDP to well-being. Highly recommended."
— James Gustave Speth, former Dean, Yale School of the Environment; author of "America the Possible: Manifesto for a New Economy"
"Interweaving the history of economic thought with stories of his personal scholarly journey, Jon Erickson walks us through the old ways of economic thinking that led us here and reveals a potential path forward. This book is a must-read for anyone who cares about our collective future, and the intellectual tools we need to build a brighter one."
— Laura Schmidt Olabisi, Associate Professor, Department of Community and Sustainability, Michigan State University; President, United States Society for Ecological Economics
"A searing, authoritative, and well-documented indictment of an economics that advocates economic growth as the solution for every problem created by economic growth. If you know a young person contemplating a career in economics, you owe it to them to save their soul by giving them a copy of this book."
— David Korten, author of "When Corporations Rule the World" and "Change the Story, Change the Future: A Living Economy for a Living Earth"
"Given that the Arctic has mostly melted, it seems axiomatic that our planet's economic system is not working very well. But Jon Erickson explains – in simple and powerful terms – just why that is, and just what would need to change if we were to actually build a world that worked much better. It's a real gift to all of us!"
— Bill McKibben, author of "The Flag, the Cross, and the Station Wagon"
"In accessible language filled with stories, ecological economist Jon Erickson shows how growth-driven economies, worsening inequities, and greenhouse gas emissions are interconnected, and thus it is possible to envision alternate paths forward which address all three."
— Patricia (Ellie) Perkins, Professor, Faculty of Environmental and Urban Change, York University and editor of The Routledge Handbook of Feminist Economics
"This book is a must-read for those who wish to understand how a promising discipline strayed inexorably from a more humane path to one that extols unbridled materialism, inequity, and environmental destruction. Economics can be rescued from its self-destructive path by having more courageous, assertive, and iconoclastic scholars like Erickson."
— Steve Onyeiwu, Andrew Wells Robertson Professor of Economics, Allegheny College and author of "Emerging Issues in Contemporary African Economies"
Free Media Mail shipping on U.S. orders over $50