A Good Drink: In Pursuit of Sustainable Spirits (Hardcover)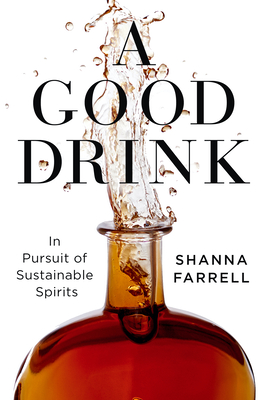 Staff Reviews
---
I must admit that I am among those people who have not thought of spirits as food. I did not think anything about the grains and other ingredients and how they are produced even though  I am very conscientious about the food I eat.
Reading about Shanna's close look at how spirits are made and finding distilleries that are  concerned about local sourcing and the environment is an eye-opener. I learned so much and I will never be able to take liquor for granted again. I am now eager to explore new taste delights and help the environment at the same time!
— Rene
Description
---
"Insightful tour de force… Farrell's writing is as informative as it is intoxicating"  -- Publishers Weekly

Shanna Farrell loves a good drink. As a bartender, she not only poured spirits, but learned their stories—who made them and how. Living in San Francisco, surrounded by farm-to-table restaurants and high-end bars, she wondered why the eco-consciousness devoted to food didn't extend to drinks.   

The short answer is that we don't think of spirits as food. But whether it's rum, brandy, whiskey, or tequila, drinks are distilled from the same crops that end up on our tables. Most are grown with chemicals that cause pesticide resistance and pollute waterways, and distilling itself requires huge volumes of water. Even bars are notorious for generating mountains of trash. The good news is that while the good drink movement is far behind the good food movement, it is emerging.
 
In A Good Drink, Farrell goes in search of the bars, distillers, and farmers who are driving a transformation to sustainable spirits. She meets mezcaleros in Guadalajara who are working to preserve traditional ways of producing mezcal, for the health of the local land, the wallets of the local farmers, and the culture of the community. She visits distillers in South Carolina who are bringing a rare variety of corn back from near extinction to make one of the most sought-after bourbons in the world. She meets a London bar owner who has eliminated individual bottles and ice, acculturating drinkers to a new definition of luxury.
 
These individuals are part of a growing trend to recognize spirits for what they are—part of our food system. For readers who have ever wondered who grew the pears that went into their brandy or why their cocktail is an unnatural shade of red, A Good Drink will be an eye-opening tour of the spirits industry. For anyone who cares about the future of the planet, it offers a hopeful vision of change, one pour at a time.
About the Author
---
Shanna Farrell is an interviewer at UC Berkeley's Oral History Center, where she works on a wide variety of projects and specializes in drink cultural and environmental history. She is the author of Bay Area Cocktails. Her writing has appeared in Imbibe magazine, Life & Thyme, PUNCH, and The San Francisco Chronicle. She holds Master's Degrees from both New York University and Columbia University.
 
Praise For…
---
"Insightful tour de force… Farrell's writing is as informative as it is intoxicating" 
— Publishers Weekly

"Insightful tour de force… Farrell's writing is as informative as it is intoxicating" 
— Publishers Weekly

"This approachable and delightfully written book is an informative way to better understand agricultural and environmental issues and how our choices in spirits can have powerful, although often unseen, effects on the ecosystem… A Good Drink is an inspirational collection of the many contributions by many thousands of people in this industry who are serious about sustainability and about protecting the future of our planet."
 
— Forbes

"This is an important entry in an ongoing conversation."
— Edible Inland Northwest
Free Media Mail shipping on U.S. orders over $50