Stopping By Woods on a Snowy Evening (Hardcover)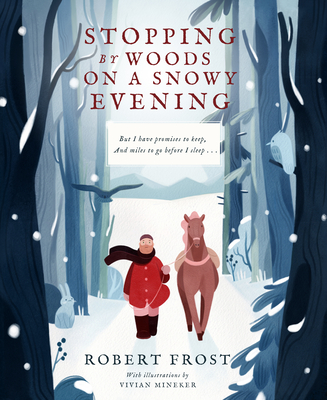 $17.99

Ships from warehouse to store in 3-6 business days
Description
---
The woods are lovely, dark and deep,   
But I have promises to keep,   
And miles to go before I sleep,   
And miles to go before I sleep.

From the illustrator of the world's first picture book adaptation of Robert Frost's "The Road Not Taken" comes a new interpretation of another classic Frost poem: "Stopping By Woods on a Snowy Evening." Weaving a simple story of love, loss, and memories with only illustrations and Frost's iconic lines, this stirring picture book introduces young readers to timeless poetry in an unprecedented way.
 
About the Author
---
Robert Frost is one of America's most beloved poets. Born in 1874 in San Francisco, California, he spent most of his life in rural New England. His poems frequently drew on his rural surroundings to teach deeper principles on life. Some of his most famous poems include "Mending Wall", "Birches", "Stopping by Woods on a Snowy Evening" and "The Road Not Taken" featured in this book. By his passing in 1963, Frost had been awarded four Pulitzer Prizes for poetry, received the Congressional Gold Medal, and been nominated thirty-one times for the Nobel Prize in Literature.
Vivian Mineker is a Taiwanese American illustrator from Taipei and Portland, OR, currently living in Slovenia. Her process usually starts with watercolor and colored pencils and finishes on the computer for fine details and adjustments.
Praise For…
---
"Frost's familiar lines become the backdrop for a man's evening of reminiscence in the snowy woods. Walking beside his horse into a realm of tall, blue-shaded tree trunks, the red-bearded man carries a book under his arm. The book's title, My Life's Stories, is key to each of the swiftly changing scenes. As he embraces a ghostly gray-haired man and woman walking through the trees, the view shifts to a family scene of a boy holding open a book while speaking excitedly to two adults. Back in the woods, two more transparent figures appear to interact with the narrator at other life stages. A young man is apparently a good friend, and a young woman with flowing black hair stays for scenes of marriage and pregnancy. With promises to keep and miles to go, man and horse head out of the woods into a glowing moonrise. Unlikely to resonate with children, the evening of sentimental recollection may well appeal to older readers and adults who are already fond of this beloved poem. VERDICT This well-crafted blend of poem and memory may find use in poetry classes and book groups".–Margaret Bush, Simmons Coll., Boston for School Library Journal
Free Media Mail shipping on U.S. orders over $75