All Things Must Pass Away: Harrison, Clapton, and Other Assorted Love Songs (Paperback)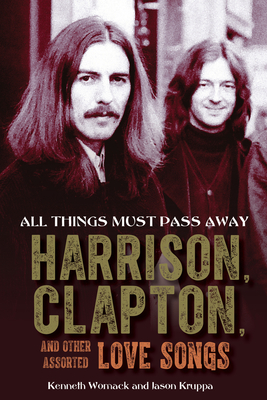 $18.99

Ships from warehouse to store in 3-6 business days
Description
---
"Womack and Kruppa present a thorough history of Harrison and Clapton's songmaking and recording sessions." —Booklist

Newly revised and expanded, this paperback edition features exclusive material from the Malcolm Frederick Evans archives and draws on rare material released by the Harrison Estate. A new appendix includes a detailed sessionography and personnel listings for All Things Must Pass, assembled from recently discovered documentation.

George Harrison and Eric Clapton embarked upon a singular personal and creative friendship that impacted rock's unfolding future in resounding and far-reaching ways. All Things Must Pass Away: Harrison, Clapton, and Other Assorted Love Songs traces the emergence of their relationship from 1968 though the early 1970s and the making of their career-defining albums, both released in November 1970.  
Authors Womack and Kruppa devote close attention to the climax of Harrison and Clapton's shared musicianship—the creation of All Things Must Pass, Harrison's powerful emancipatory statement in the wake of the Beatles, and Layla and Other Assorted Love Songs, Clapton's impassioned reimagining of his art via Derek and the Dominos—two records that advanced rock 'n' roll from a windswept 1960s idealism into the wild and expansive new reality of the 1970s. 
All Things Must Pass Away reveals the foundations of Harrison and Clapton's friendship, focusing on the ways their encouragement and support of each other drove them to produce works that would cast long shadows over the evolving world of rock music.
About the Author
---
Kenneth Womack is the author of Maximum Volume and Sound Pictures, the two-volume biography of George Martin, as well as The Beatles Encyclopedia and New Critical Perspectives on the Beatles. He delivers some 50 invited Beatles talks a year to audiences across the nation, while sharing his insights with media of all stripes, including National Public Radio, ABC, CBS, NBC, and Voice of America. He lives in New Jersey. Jason Kruppa is a music historian and creator of the Producing the Beatles podcast. He lives in New Orleans.
Praise For…
---
"Womack and Kruppa have penned 'The Ballad of George and Eric.' This book demystifies the mystifying relationship between two guitar gods, revealing how Harrison and Clapton composed variations of their own love song, shaped by attraction, theft, jealousy, admiration, and all manner of borrowing. Beyond what we think we knew about weeping guitars and the competition for Layla is the story of a singular—but very human—friendship."
—Katie Kapurch, PhD, Texas State University
"Veteran author and Beatles scholar Womack and music historian Kruppa offer meticulous details in this dual biography with its unusual angle on two iconic musicians."
—Booklist
"Richly researched and thoughtfully written, the book walks readers through the process of creation of both artists' key works.  A joy for fans of either/both."
—Matt Hurwitz
"Ever read something that changes the way you hear certain classic records, makes you chuckle at how key moments happen by accident, or how entire sessions hinge on some minor character's spilled coffee? That's how this book operates: as a thoughtful mediator between you, your assumptions, and how music history surfs on whim and serendipity. The romantic triangle turns into classic rock's deceptive lead." —Tim Riley, author of Tell Me Why and Lennon: Man, Music, Myth
"Incredibly well-researched and written with great interest in these two conflicted artists, the book demonstrates a pair of unlikely characters sailing through one of the most colorful decades of the last hundred years."
—CultureSonar
"Appealing to die-hard Clapton and Harrison fans."
—Kirkus Reviews
Free Media Mail shipping on U.S. orders over $50