Miles on Miles: Interviews and Encounters with Miles Davis (Musicians in Their Own Words) (Paperback)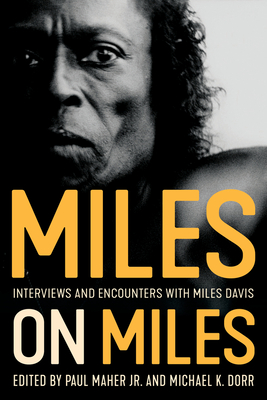 Staff Reviews
---
The late Miles Davis, in these press interviews over his career, really pulled no punches whatsoever. He'd just trash his peers casually, outright diss the musicians he was literally touring with at the time and in general say whatever he felt like to the press (see also: the late Lou Reed). It's endlessly amusing, because, well, no one does that. Now, Miles was into self-promotion for SURE, but that's not how it's done. He forever saw himself, in a torrent of hubris, as the pinnacle of Jazz. When you're coming from a place like that, the laughs pour as easily as the tears! A revealing and deeply humorous read.
— Matt
Description
---
Gathering the 30 most vital Miles Davis interviews—on his music, his life, and his philosophy—this collection reveals the jazz icon as a complex and contradictory man, secretive at times but extraordinarily revealing at others. Miles was not only a musical genius, but an enigma, and nowhere else was he so compelling, exasperating, and entertaining as he was in his interviews, which vary from polite to outrageous, from straight-ahead to contrarian. Many were conducted by leading journalists like Leonard Feather, Stephen Davis, Ben Sidran, Mike Zwerin, and Nat Hentoff; while others have never before been printed, and are newly transcribed from radio and television shows—making this the definitive source for anyone wanting to really encounter the legend in print.
About the Author
---
Paul Maher Jr. is the author of  Tom Waits on Tom Waits, Jack Kerouac's American Journey, and Kerouac: His Life and Work. He lives in Fitchburg, Massachusetts. Michael K. Dorr is a poet, playwright, editor, former publisher, and founder of LitPub, Ink, a literary agency. He lives in Brooklyn, New York.
Praise For…
---
"It's pleasurable to have [these interviews] in this one handy and thoughtfully edited volume." —
Library Journal
"Here is Miles Davis's less familiar voice, his speaking voice. . . . Maher and Dorr gather together Davis's greatest hits in Q & A, and they make compelling reading."  —Jack Chambers, author, Milestones: The Music and Times of Miles Davis

"Most worthy . . . illustrative." —Jazztimes

"Effectively portrays what the editors call the 'myriad mirrors to his life.'" —Sacramento News & Review

"Miles [presented] in all his glory . . . fascinating." —popmatters.com

"Provides startling insight." —Star Tribune


"[A] telling book…gripping from beginning to end. You will not be able to put it down." —examiner.com
"Everybody should read at least one book about Davis' life and music, and Miles on Miles is the perfect place to start." —
Winston-Salem Journal
Free Media Mail shipping on U.S. orders over $50