The Secret Hours (Hardcover)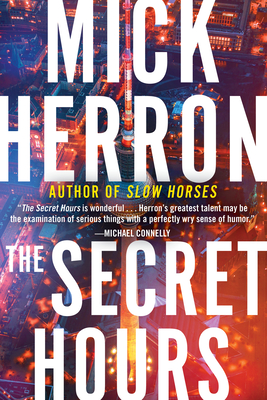 $27.95

Coming soon - PRE-ORDER NOW!
Description
---
A gripping standalone spy thriller from the #1 Sunday Times bestselling author of Slow Horses, with a riveting reveal about a disastrous MI5 mission in Cold War Berlin—an absolute must-read for Slough House fans.

New from the author of Slow Horses, now an Apple Original series from Apple TV+, starring Gary Oldman and Kristin Scott Thomas.

Two years ago, a hostile Prime Minister launched the Monochrome inquiry, investigating "historical over-reaching" by the British Secret Service. Monochrome's mission was to ferret out any hint of misconduct by any MI5 officer—and allowed Griselda Fleet and Malcolm Kyle, the two civil servants seconded to the project, unfettered access to any and all confidential information in the Service archives in order to do so.

But MI5's formidable First Desk did not become Britain's top spy by accident, and she has successfully thwarted the inquiry at every turn. Now the administration that created Monochrome has been ousted, the investigation is a total bust—and Griselda and Malcolm are stuck watching as their career prospects are washed away by the pounding London rain.

Until the eve of Monochrome's shuttering, when an MI5 case file appears without explanation. It is the buried history of a classified operation in 1994 Berlin—an operation that ended in tragedy and scandal, whose cover-up has rewritten thirty years of Service history.

The Secret Hours is a dazzling entry point into Mick Herron's body of work, a standalone spy thriller that is at once unnerving, poignant, and laugh-out-loud funny. It is also the breathtaking secret history that Slough House fans have been waiting for.
About the Author
---
Mick Herron is a British novelist and short story writer who was born in Newcastle and studied English at Oxford. He is the author of the Slough House espionage series, four Oxford mysteries, and three standalone novels. His work has won the CWA Gold Dagger for Best Crime Novel, the Steel Dagger for Best Thriller, the Theakston's Novel of the Year Award, the Palle Rosenkrantz Prize, the Ellery Queen Readers Award and the USC Libraries Scripter Award, and been nominated for the Macavity, Barry and Shamus Awards. He currently lives in Oxford and writes full-time.
Praise For…
---
Praise for The Secret Hours

"Great Britain has a long, rich history of how-it-really-works espionage fiction, and Mick Herron—stealthy as a secret agent—has written himself to the very top of the list. If you haven't already been recruited, start with The Secret Hours—all Herron's trademark strengths are here: tension, intrigue, observation, humor, absurdity . . . and pitch-perfect prose."
—Lee Child

"The Secret Hours is wonderful. It's Mick Herron at his best, taking us into a dark world where there is high action, a spinning moral compass, and hidden motives on every page. And, oh, yes, the fun—Herron's greatest talent may be the examination of serious things with a perfectly wry sense of humor."
—Michael Connelly

"I doubt I'll read a more enjoyable novel all year. The Secret Hours has it all: thrilling action scenes, crackling dialogue, characters to infuriate and beguile, and a neatly intricate plot. And through it all cuts Herron's acerbic wit, its effect heightened by the glimpses he allows us, from time to time, from his world to ours."
—Paula Hawkins, author of The Girl on the Train

"A deft knockout of a story, with an arc of history, written with humor and style. Mick Herron is one of the best writers of spy fiction working today."
—Martin Cruz Smith

Praise for Mick Herron

"The best in a generation, by some estimations, and irrefutably the funniest."
–Jill Lepore, The New Yorker

"Intricate plotting, full of twists . . . Herron can certainly write a real spy story, with all the misdirection and sleight of hand that requires. But it's the surly Slough House mood, the eccentric characters, and Herron's very black, very dry sense of humor that made me read one after the other without a break."
—Laura Miller, Slate.com

"Out of a wickedly imagined version of MI5, [Herron] has spun works of diabolical plotting and high-spirited cynicism, their pages filled with sardonic wit, their characters approaching the surreal."
—The Wall Street Journal

"The sharpest spy fiction since John le Carré."
—NPR's Fresh Air

"Mick Herron never tells a suspense story in the expected way . . . In Herron's book, there is no hiding under the desk."
—The New York Times Book Review

"Stylish and engaging."
—The Washington Post

"[Herron] really is funny and his cynicism is belied, here and there, by flashes of the mingled tenderness and anger that seem to define Britain's post-Brexit self-reflections."
—USA Today
We will be open on Memorial Day from 10 AM until 6 PM.
Free Media Mail shipping on U.S. orders over $50