Jane and the Year Without a Summer (Being a Jane Austen Mystery #14) (Paperback)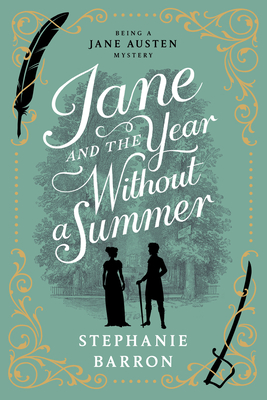 Other Books in Series
This is book number 14 in the Being a Jane Austen Mystery series.
Staff Reviews
---
There is a wide spectrum of Jane Austen fan fiction out there - some of it wonderful, some of it...less so. Technically speaking, Jane and the Year Without a Summer is among the best.
During the summer of 1816, when Europe had fallen under a volcanic winter, we join the Misses Austen on a (real) visit to the spa at Cheltenham. Jane's physician has recommended taking the waters there to restore her health (which the reader knows, sadly, will not happen). While staying at Mrs. Potter's boarding house (another true-to-life detail), they become embroiled in a murder mystery that threatens all their lives.
While the plot of the story is fictional, it is based in large part on real people and real events from Jane Austen's life. Barron does a fantastic job capturing the language and manners of the period, all the while relating a fun whodunit that keeps one on one's toes.
Though this is the 14th entry in this series, Jane and the Year Without a Summer works perfectly as a standalone. And now I'm off to read #1!
— Kaley
Description
---
"If you have a Jane Austen-would-have-been-my-best-friend complex, look no further . . . [Barron] has painstakingly sifted through the famed author's letters and writings, as well as extensive biographical information, to create a finely detailed portrait of Austen's life—with a dash of fictional murder . . . Some of the most enjoyable, well-written fanfic ever created."—O Magazine
 
May 1816: Jane Austen is feeling unwell, with an uneasy stomach, constant fatigue, rashes, fevers and aches. She attributes her poor condition to the stress of family burdens, which even the drafting of her latest manuscript—about a baronet's daughter nursing a broken heart for a daring naval captain—cannot alleviate. Her apothecary recommends a trial of the curative waters at Cheltenham Spa, in Gloucestershire. Jane decides to use some of the profits earned from her last novel, Emma, and treat herself to a period of rest and reflection at the spa, in the company of her sister, Cassandra.
 
Cheltenham Spa hardly turns out to be the relaxing sojourn Jane and Cassandra envisaged, however. It is immediately obvious that other boarders at the guest house where the Misses Austen are staying have come to Cheltenham with stresses of their own—some of them deadly. But perhaps with Jane's interference a terrible crime might be prevented. Set during the Year without a Summer, when the eruption of Mount Tambora in the South Pacific caused a volcanic winter that shrouded the entire planet for sixteen months, this fourteenth installment in Stephanie Barron's critically acclaimed series brings a forgotten moment of Regency history to life.
About the Author
---
Stephanie Barron was born in Binghamton, New York, the last of six girls. She attended Princeton and Stanford Universities, where she studied history, before going on to work as an intelligence analyst at the CIA. She wrote her first book in 1992 and left the Agency a year later. Since then, she has written twenty-nine books, including the critically acclaimed Merry Folger series, which she writes under the name Francine Mathews. She lives and works in Denver, Colorado
Praise For…
---
Praise for Jane and the Year Without a Summer

A Reading Group Choices Editors' Pick

"[A] carefully researched and beguiling series . . . The author evokes Austen's amused style with panache—'one must be on one's guard when sitting down with a potential poisoner'—as the story's tone shifts from satire to menace."
—Tom Nolan, The Wall Street Journal

"Absolutely charming, and one of the best among [Stephanie Barron's] prolific list of Jane Austen mysteries."
—The Denver Post

"Another exceptionally fun read for both the legions of Jane Austen fans and all dedicated mystery buffs."
—Midwest Book Review

"Impossible to put down . . . [Jane and the Year Without a Summer] is the ideal companion for a summer afternoon."
—Crime Review (UK)

"I chuse to recommend Stephanie Barron's most excellent Jane and the Year Without a Summer. Good reader, it will both charm and dazzle you. Closet yourself in your chamber undisturbed, for the story—fraught with poisoning, abduction, and murder—has unfathomed depths worthy of the esteemed Miss Jane Austen herself. Well done, Miss Barron! Your writing is unrivaled in its wit and veracity. Miss Austen instructs there is happiness in serving others, and I mean to follow her example forthwith by informing you that Miss Barron writes with a mighty quill."
—Sandra Dallas, New York Times bestselling author

"Stephanie Barron has done it again. It's no mean feat to recreate the world and tone of Jane Austen—while also writing a thoroughly engaging and entertaining mystery! But Stephanie Barron pulls it off with a wry wit and an ease of manner reminiscent of Austen herself. If you haven't read these books yet, go back, start at the beginning, brew a very large pot of tea, and prepare to be thoroughly diverted."
—Lauren Willig, New York Times bestselling author of Band of Sisters

"No one conjures Austen's voice like Stephanie Barron, and Jane and the Year Without a Summer is utterly pitch-perfect. The only way Barron could write Austen more convincingly is with a Ouija board. From the exquisite period detail to the uniquely Austenian turns of phrase, this series is a must-read for all Janeites." 
—Deanna Raybourn, New York Times bestselling author of the Veronica Speedwell mysteries

"Exceptionally researched and written, Jane and the Year Without a Summer is absolute perfection. Stephanie Barron expertly weaves fact and fiction, crafting a story that is authentically Austen in its elegance, charm, and wit. The characters and setting will enchant you, and the mystery will keep you guessing to the last page. This Regency-set gem is truly a diamond of the first water."
—Mimi Matthews, USA Today bestselling author

"The world of Regency England comes alive through the vivid historical detail underpinning this intriguing novel, while Jane and the secondary characters are both engaging and authentic. Whether first-timers or serious followers of Jane Austen, readers will thoroughly enjoy this take on the legendary author's life and sleuthing skills."
—Shelf Awareness

"Jane and the Year Without a Summer is a sweet indulgence filled with wit, charm, and the author's formidable research into the Regency era and the real Austen's biography . . . sure to please even the pickiest, most well-read Janeite."
—Reviewing the Evidence

"Rich in historical detail."
—Everything Zoomer

"Barron deftly weaves delights of the early 19th century into the twists of plot, from poisoned delicacies to a masquerade ball, and the rights and rebellions of women of the time. She is also a clever plotter (this is one of two series she writes) and offers well-chosen dialogue and desires of the period."
—Historical Novel Society

"A well-researched and tightly plotted character-driven story that will keep the pages turning until the final page."
—Gumshoe Review

"[Barron] captured Jane's voice and temperament perfectly . . . Historical mystery and Jane Austen fans alike will enjoy the artful suspense and poignant moments in Jane and the Year Without a Summer."
—Austenprose.com
 
"Stephanie Barron not only tells a compelling story, she has obviously done her research on Jane Austen's life and world . . . Any Austen fan will enjoy reading about Jane Austen's fictional adventures during 'the year without a summer.'"
—Jane Austen's World Blog

"Outstanding . . . When one of these sharply defined characters dies of poisoning, Jane once again turns sleuth. The Austen family's financial constraints and Jane's own failing health add verisimilitude to this taut, sometimes perplexing tale of lost opportunity and unfulfilled aspirations."
—Publishers Weekly, Starred Review

"Full marks for background, plotting, and voice—though fans should know that this 13th case is darker than Jane's first 12."
—Kirkus Reviews

Praise for the Jane Austen Mysteries

"A complex murder mystery with the same kind of rapier wit that Austen deployed . . . Great fun for readers who long ago ran out of Jane Austen novels."
—The Boston Globe

"Sings with not just a good plot but courtly language and an engaging group of characters worthy of the famed novelist herself . . . A first-rate mystery."
—The Denver Post

"With a keen sense of plot—the identity of the villain surprises—perfect pitch for Austen's voice and a cast of new and familiar characters, Barron has again produced a pleasant excursion into literate and historical escapism."
—Richmond Times-Dispatch

"Absolutely delightful, with just the right balance between likable, captivating characters and the actual history of Jane Austen's life."
—Historical Novel Society
Free Media Mail shipping on U.S. orders over $50