The Everlasting Man (Hardcover)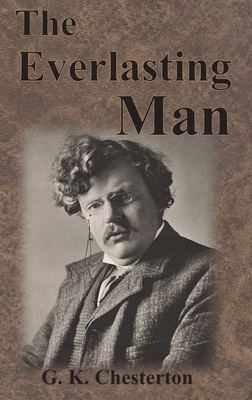 $18.77

Ships from warehouse to store in 3-6 business days
Description
---
Complete edition of The Everlasting Man by G. K. Chesterton. Chesterton successfully challenges the view that man is just another evolutionary animal, and that Jesus Christ was only human. C. S. Lewis said it was the best popular defense of the full Christian position. Find out why in this complete reproduction of the 1925 British Edition.

Deep common sense on every page, it includes great thoughts such as these:
"The life of man is a story; an adventure story; and in our vision the same is true even of the story of God."
"Atheists may continue to war with Christianity, but it will be as they war with nature; as they war with the landscape, as they war with the skies."
Witty, deep, and positively entertaining, no student of thought should be without this historic book. This edition is provided in a slim volume with full text at an affordable price.
TABLE OF CONTENTS
PREFATORY NOTE 3
INTRODUCTION: THE PLAN OF THIS BOOK 3
PART I: ON THE CREATURE CALLED MAN 8
CHAPTER 1 THE MAN IN THE CAVE 8
CHAPTER 2 PROFESSORS AND PREHISTORIC MEN 15
CHAPTER 3 THE ANTIQUITY OF CIVILISATION 22
CHAPTER 4 GOD AND COMPARATIVE RELIGION 33
CHAPTER 5 MAN AND MYTHOLOGIES 41
CHAPTER 6 THE DEMONS AND THE PHILOSOPHERS 48
CHAPTER 7 THE WAR OF THE GODS AND DEMONS 57
CHAPTER 8 THE END OF THE WORLD 64
PART II: ON THE MAN CALLED CHRIST 70
CHAPTER 1 THE GOD IN THE CAVE 70
CHAPTER 2 THE RIDDLES OF THE GOSPEL 77
CHAPTER 3 THE STRANGEST STORY IN THE WORD 83
CHAPTER 4 THE WITNESS OF THE HERETICS 89
CHAPTER 5 THE ESCAPE FROM PAGANISM 97
CHAPTER 6 THE FIVE DEATHS OF THE FAITH 105
CONCLUSION: THE SUMMARY OF THIS BOOK 110
APPENDIX I: ON PREHISTORIC MAN 114
APPENDIX II: ON AUTHORITY AND ACCURACY 115
Free Media Mail shipping on U.S. orders over $50