Can We Talk About Israel?: A Guide for the Curious, Confused, and Conflicted (Paperback)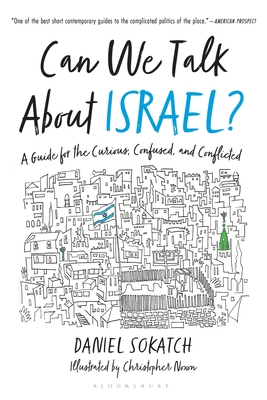 $18.00

Ships from warehouse to store in 3-6 business days
Description
---
From the expert who understands both sides of one of the world's most complex, controversial topics, a modern-day Guide for the Perplexed-a primer on Israel and the Israeli-Palestinian conflict.

"Can't you just explain the Israel situation to me? In, like, 10 minutes or less?" This is the question Daniel Sokatch is used to answering on an almost daily basis as the head of the New Israel Fund, an organization dedicated to equality and democracy for all Israelis, not just Jews, Sokatch is supremely well-versed on the Israeli conflict.

Can We Talk About Israel? is the story of that conflict, and of why so many people feel so strongly about it without actually understanding it very well at all. It is an attempt to grapple with a century-long struggle between two peoples that both perceive themselves as (and indeed are) victims. And it's an attempt to explain why Israel (and the Israeli-Palestinian conflict) inspires such extreme feelings-why it seems like Israel is the answer to "what is wrong with the world" for half the people in it, and "what is right with the world" for the other half. As Sokatch asks, is there any other topic about which so many intelligent, educated and sophisticated people express such strongly and passionately held convictions, and about which they actually know so little?

Complete with engaging illustrations by Christopher Noxon, Can We Talk About Israel? is an easy-to-read yet penetrating and original look at the history and basic contours of one of the most complicated conflicts in the world.
About the Author
---
Daniel Sokatch is the chief executive officer of the New Israel Fund (NIF). He served as the executive director of the Progressive Jewish Alliance and the Jewish Community Federation of San Francisco, the Peninsula, Marin and Sonoma Counties. Sokatch has been named four times to the Forward's "Forward 50," an annual list of the fifty leading Jewish decision makers and opinion shapers. His writing has appeared in the New York Times, Washington Post, Los Angeles Times, and other publications. Sokatch holds an MA from the Fletcher School at Tufts University, a JD from Boston College Law School, and a BA from Brandeis University. He is married with two daughters and lives in San Francisco.

Christopher Noxon (illustrator) is a journalist and illustrator whose work has appeared in the New Yorker, the Atlantic, the New York Times Magazine, Salon, and his book Good Trouble: Lessons from the Civil Rights Playbook. He writes and draws in Ojai, California.
Praise For…
---
"An engaging and evenhanded … history of the conflict, from its 19th-century origins to the most recent mini-war between Israel and Hamas in May 2021." - The New York Times Book Review

"An important book, exceedingly well written, full of insight and empathy and even humor in the face of all available evidence." - Colum McCann, National Book Award-winning author of LET THE GREAT WORLD SPIN and APEIROGON

"One of the best short contemporary guides to the complicated politics of the place" - American Prospect

"An optimistic, evenhanded instruction manual, with upbeat illustrations, for anyone trying to understand the conflict." - Kirkus Reviews (starred review)

"Flashes of humor, including Noxon's witty black-and-white illustrations, lighten the mood without sacrificing in-depth analysis. Readers will welcome this informative and fair-minded primer on one of the world's most fiercely debated issues." - Publishers Weekly

"Tackles seemingly intractable issues in a mature, reasonable and straightforward manner ... After finishing this remarkable treatment and reinterpretation of key events that have taken place during my lifetime, my view of the entire situation irrevocably changed." - The Bowling Green Daily News

"An accessible, engaging explanation of the Israel-Palestine conflict." - Times Literary Supplement

"Everything that so often seems lacking in our thoughts, feelings, and arguments about Israel and Palestine—clarity, fair-mindedness, and universal compassion—can be found in this elegantly written and surprisingly entertaining book." - Michael Chabon & Ayelet Waldman

"A breezy, sometimes even witty book about the always hot-button, depressing, and controversial topic of Israel and Palestine. [Daniel Sokatch] weaves a historical commentary that is both authoritative and entertaining. He must be some kind of wise man—or at least a mensch." - Kai Bird, Pulitzer Prize-winning author of CROSSING MANDELBAUM GATE and THE OUTLIER

"A clearheaded, evenhanded book about a crucial and troubled region that makes all of us bonkers." - Daniel Handler

"This is an important overview of Jewish perspectives, both in Israel and in the United States, of Israel and its conflict with the Palestinians. It is balanced, insightful, and highly recommended." - Hussein Ibish, Senior Resident Scholar, Arab Gulf States Institute of Washington

"No reader will agree with everything [Sokatch] writes. That's good! But every reader should appreciate his honesty, passion, intellect, and humanity." - Daniel Shapiro, U.S. Ambassador to Israel, 2011-2017

"Israel is a nation, a symbol, a legacy, an enigma, a disappointment, an outrage, and a promise all in one, and untangling those threads can seem overwhelming. If your answer to the question 'can we talk about Israel?' is 'do we have to?' then this is the book for you. It is essential not just for its frank and accessible narrative, but also for Daniel Sokatch's ability to fill the gulf of knowledge that leaves so many of us outside a vital conversation." - Prof. Juliette Kayyem, Faculty Chair of the Homeland Security Project, Harvard's Kennedy School of Government
We will be closing at 8pm on Friday, 9/22 due to severe weather.
Free Media Mail shipping on U.S. orders over $75