A Botanist's Guide to Flowers and Fatality (A Saffron Everleigh Mystery #2) (Hardcover)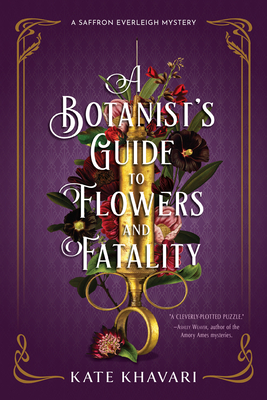 $27.99

Coming soon - PRE-ORDER NOW!
Other Books in Series
This is book number 2 in the A Saffron Everleigh Mystery series.
Description
---
Brilliant botanist Saffron Everleigh is back and ready for adventure in Kate Khavari's next mesmerizing historical mystery.

"A cleverly plotted puzzle" (Ashley Weaver) in the vein of Opium and Absinthe, this second installment is perfect for fans of Rhys Bowen and Sujata Massey.

1920s London isn't the ideal place for a brilliant woman with lofty ambitions. But research assistant Saffron Everleigh is determined to beat the odds in a male-dominated field at the University College of London. Saffron embarks on her first research study alongside the insufferably charming Dr. Michael Lee, traveling the countryside with him in response to reports of poisonings. But when Detective Inspector Green is given a case with a set of unusual clues, he asks for Saffron's assistance.

The victims, all women, received bouquets filled with poisonous flowers. Digging deeper, Saffron discovers that the bouquets may be more than just unpleasant flowers— there may be a hidden message within them, revealed through the use of the old Victorian practice of floriography. A dire message, indeed, as each woman who received the flowers has turned up dead.

Alongside Dr. Lee and her best friend, Elizabeth, Saffron trails a group of suspects through a dark jazz club, a lavish country estate, and a glittering theatre, delving deeper into a part of society she thought she'd left behind forever.

Will Saffron be able to catch the killer before they send their next bouquet, or will she find herself with fatal flowers of her own in Kate Khavari's second intoxicating installment.
About the Author
---
Kate Khavari is the author of fiction ranging from historical mysteries to high fantasy epics. She has her parents to thank for her fascination for historical mysteries, as she spent the majority of her childhood memorizing Sherlock Holmes's and Poirot's greatest quips. A former teacher, Kate has a deep appreciation for research and creativity, not to mention the multitasking ability she now relies on as an author and stay at home mother to her toddler son. She lives in the Dallas-Fort Worth area of Texas with her husband, son, and a lovely garden that contains absolutely no poisonous plants.
Praise For…
---
Praise for A Botanist's Guide to Flowers and Fatalities:
"An intriguing mystery with plenty of esoteric plant lore and a touch or two of romance."
—Kirkus Reviews

"The novel sings . . . Historical mystery fans will want to see where Saffron goes from here."
—Publishers Weekly

Praise for A Botanist's Guide to Parties and Poisons:
"An exciting debut with a determined protagonist whose future is sure to contain romance and mystery."
—Kirkus

"Khavari is off to a promising start."
—Publishers Weekly

"Intelligent, witty, and brave . . . Khavari has created a fast-paced, interesting mystery."
—Bookpage

"[A] delightful new novel . . . Perfect for fans of Miss Fisher's Murder Mysteries."
—CrimeReads

"Kate Khavari creates the winning combination of an intriguing mystery and a resourceful and engaging heroine."
—Frances Brody, author of the Kate Shackleton mysteries

"Kate Khavari has created a charming mystery, full of twists that are as intriguing and deadly as the plants her characters love. Saffron Everleigh is clever and determined, the sort of sleuth that readers will be eager to make space for on their bookshelves. I'm already looking forward to her next adventure!"
—Katharine Schellman, author of the Lily Adler Mysteries

"I love Saffron Everleigh! In A Botanist's Guide to Parties and Poisons Kate Khavari gives us a gutsy ingenious heroine, academic intrigue, a scientifically suspenseful mystery and a Christie-like cast of characters. This is historical mystery—with a 21st century sensibility—at its best."
—M. L. Huie, author of the Livy Nash mysteries 

"A Botanist's Guide to Parties and Poisons combines all the things I love most in a mystery: a smart and charming heroine, a cleverly-plotted puzzle, and a hint of romance. Well-researched and brimming with the dangers of scientific intrigue, it's sure to keep readers turning pages. I hope to see a lot more of Saffron Everleigh!"
—Ashley Weaver, author of the Amory Ames mysteries 

"Delightful and twisty, A Botanist's Guide to Parties and Poisons will immerse you in 1920s academic London and have you turning pages to the end. Saffron Everleigh is a plucky heroine that readers will want to join for the next adventure. An engaging read!"
—Lydia Kang, author of Opium and Absinthe

"The 1920s university science department setting, feisty female protagonist, and believable chemistry between the main characters make this a sparkling gem of a debut, and will leave fans of historical mystery excited for the next installment."
—Kate Belli, author of the Gilded Gotham Mystery series
We will be open on Memorial Day from 10 AM until 6 PM.
Free Media Mail shipping on U.S. orders over $50