Heaven Official's Blessing: Tian Guan Ci Fu (Novel) Vol. 4 (Paperback)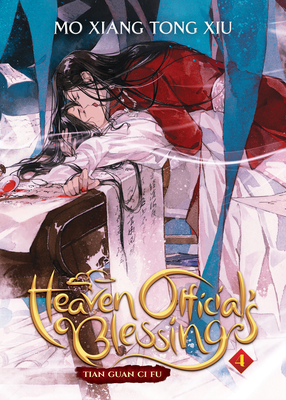 Description
---
FATES ALIGNED, BODIES INTERTWINED

The Reverend of Empty Words, a monster that feeds off the fears of the fortunate, is hunting Xie Lian's friend, the Wind Master Shi Qingxuan. Knowing that his abysmal luck inoculates him from the creature's power, Xie Lian doesn't hesitate to throw himself into harm's way—to Hua Cheng's horror and panic. But another one of the Four Calamities may be closer than anyone knows, and even a ghost as powerful as Hua Cheng can lose control under the right circumstances. With his inhibitions gone, will desire overtake him?
About the Author
---
Mo Xiang Tong Xiu (MXTX) is a globally renowned and New York Times' bestselling author whose works are often cited as the most well-known of the modern danmei genre. Originally self-published in Chinese via the novel serialization website, JJWXC, her current titles include The Scum Villain's Self-Saving System, Grandmaster of Demonic Cultivation, and Heaven Official's Blessing, all available in English from Seven Seas. Her series have enormously popular multimedia adaptations and have been published in numerous languages around the world.
Free Media Mail shipping on U.S. orders over $75