Dirt: A social history as seen through the uses and abuses of dirt (Hardcover)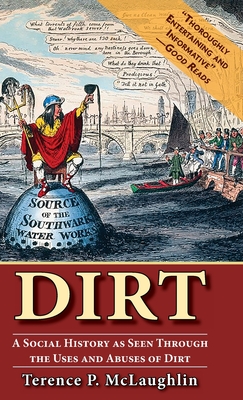 $43.69
Ships from warehouse to store in 1-5 business days
Description
---
Delve Into the Fascinating World of Dirt
Dirt is a matter of opinion, according to public health and hygiene authority Terence McLaughlin. In this engaging, thoroughly-researched, and often humorous study of the "imperfections" of human existence and our relationship to them, McClaughlin dissects human attitudes about the slime, mud, stench and filth which has accompanied society through history.
Our notion of cleanliness has a marked cultural aspect. For instance, McLaughlin cites Old Testament examples of cleanliness which, unbeknownst at the time, helped protect observant followers from the plague. The famous baths of ancient Rome were seen as progress for personal hygiene, and later scorned by Christians who rejected all things Roman. McLaughlin recites a long litany of examples of how we accept or reject substances, exploring why we dislike sensations such as stickiness and sliminess. Cultural attitudes about everything from factory smoke to personal hygiene are constantly shifting with the economic and political exigencies of the era.
In this age of pandemic viruses, there has never been a more important time to observe how people think about the possible contaminants around us. Dirt is a key resource for anyone wishing to understand humanity's role in shaping our environment.
This title is also available from Echo Point Books in paperback, ISBN 1635619467.