Illuminations: Stories (Hardcover)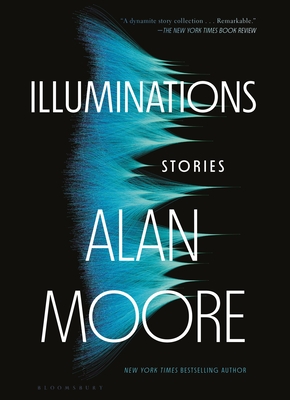 Staff Reviews
---
Alan Moore is one of my favorite English authors out there. I have consistently found myself enjoying his work time and time again. To those unfamiliar with his name – his writing almost certainly will strike a chord of recognition.
A word to the wise: Moore is not going to be everybody's cup of tea nor does he try to be. He is very much off the beaten path to the point that many view him as a literary trailblazer. That approach has garnered Moore numerous awards and literary honors despite his efforts to just be himself.
An anthology of tales as only Moore could tell them, Illuminations comes highly recommended. To those willing to take a chance – give this one a try.
— Bud
Description
---
NATIONAL BESTSELLER
NEW YORK TIMES BOOK REVIEW EDITORS' CHOICE

From New York Times bestselling author Alan Moore—one of the most influential writers in the history of comics—"a wonderful collection, brilliant and often moving" (Neil Gaiman) which takes us to the fantastical underside of reality.

In his first-ever short story collection, which spans forty years of work, Alan Moore presents a series of wildly different and equally unforgettable characters who discover--and in some cases even make and unmake--the various uncharted parts of existence.

In "A Hypothetical Lizard," two concubines in a brothel of fantastical specialists fall in love with tragic ramifications. In "Not Even Legend," a paranormal study group is infiltrated by one of the otherworldly beings they seek to investigate. In "Illuminations," a nostalgic older man decides to visit a seaside resort from his youth and finds the past all too close at hand. And in the monumental novella "What We Can Know About Thunderman," which charts the surreal and Kafkaesque history of the comics industry's major players over the last seventy-five years, Moore reveals the dark, beating heart of the superhero business.

From ghosts and otherworldly creatures to theoretical Boltzmann brains fashioning the universe at the big bang, Illuminations is exactly that--a series of bright, startling tales from a contemporary legend that reveal the full power of imagination and magic.
About the Author
---
Alan Moore is an English writer widely regarded as the best and most influential writer in the history of comics. His seminal works include From Hell, Lost Girls and The League of Extraordinary Gentleman. He is also the author of the bestselling Jerusalem. He was born in Northampton, and has lived there ever since.
Praise For…
---
"Burn[s] with Moore's soaring intelligence and riotous humanity . . . Illuminations, Moore's first collection of short fiction, finds the writer working on a smaller scale but still swinging for the firmament . . . the book showcases all of Moore's strengths as a fantasist . . . Moore has written both a dynamite story collection and a dynamite monster manual . . . Moore's failures are few, his radiances many . . . Remarkable." —Junot Diaz, The New York Times Book Review

"Mr. Moore's writing is as brilliant as ever—from dizzying wordplay in scene-setting detail to cuttingly succinct summaries . . . As for the stories themselves, there is no shortage of wild invention . . . Fans of Mr. Moore in all his incarnations will love this collection." - Wall Street Journal

"Illuminations is a wonderful collection, brilliant and moving . . . Both mind-expanding and cosmic while utterly rooted in our urban reality, written in language that coruscates, concatenates and glitters . . . [It] refuses to leave your head after you've read it." —Neil Gaiman, author of AMERICAN GODS and NORSE MYTHOLOGY

"One of the most significant fiction writers in English . . . Moore's influence can be felt everywhere-in our literature, on our screens, in our politics." —Guardian

"His bighearted passion for his people . . . and the whole monstrous endeavor of the human condition is infectious. I'm not sure there's a God, but I thank Her for Alan Moore." —Entertainment Weekly

"Hilarious . . . [Moore] deconstructs the industry that sells superheroes by using its own myths against it . . . The collection is really good." - Slate

"Illuminations is a fascinating book . . . from the mind of one of the most celebrated comic book writers in the English language . . . you're in for a wild ride, from start to finish." - Alex Kingsley, Ancillary Review of Books

"Legendary graphic novelist Moore (Watchmen, V for Vendetta, and many others) burnishes his reputation in his first prose collection, which features nine career-spanning tales. The standout short novel "What We Can Know About Thunderman" is a scathing take on the American comic book industry and its impact on popular culture and politics, and his subversive talent is equally on display in shorter tales. This brilliant volume dazzles at every turn" —Publishers Weekly

"Moore's dark humor and expert twists are on full display in these fictions. Fans of dark fantasy and dark humor will enjoy this collection from one of fantasy's greats." —Booklist

"Clever and vivid." —Kirkus Reviews

"The Shakespeare of the comic book . . . His prose fiction thrums with the zest of somebody who feels newly untrammelled . . . conveying the exhilarating sense of words rushing to catch up with the author's never-ending stream of ingenious ideas." —The Daily Telegraph

"Moore makes the parochial universal, the mundane sublime and the temporal never-ending." —Financial Times

"One of the great fiction minds of his generation." —Rolling Stone

"The question of whether he's a fountain of imagination or just bats has never arisen: He's both, and his ability to see familiar ideas from an alien perspective is one of his best tricks." —Slate

"Moore's prose is rich and complicated . . . Once you slip into the rhythm of it, it is also poetic, insightful, and beautiful." —Pittsburgh Post-Gazette
Free Media Mail shipping on U.S. orders over $50
Christmas ordering guidelines
"Ships from warehouse" items to be shipped: Order by Monday, 12/5
"Ships from warehouse" items to be picked-up in store: Order by Monday, 12/12
On hand items: We'll pull items in order of orders received, so keep them coming!