This Is Happiness (Paperback)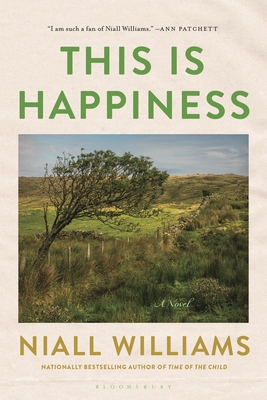 $18.00

Ships from warehouse to store in 3-6 business days
Staff Reviews
---
One benefit of working in a bookstore are the book chats with customers. Here's a novel I was told I simply had to read, and boy am I glad I listened.
Set in 1950s rural Ireland, electricity is finally coming to a remote community. The story centers around Christy, an old man come to town, working for the electric project and seeking forgiveness from a local woman he wronged so many years ago. Christy befriends 17-year-old Noe Crowe, the floundering grandson of an elderly couple unswayed by the promised wonders of electric power. Christy and Noe's friendship is central to the story as each guides the other and pursues love, old and new.
This story has a quiet wit, is oh-so-poetic, and is simply beautiful. It is about knowing when you are standing in the midst of happiness, recognizing it, feeling it, not missing it. It is a book about everyday life and love, forgiveness, and finding your religion. Savor this novel and then insist your friends read it too.
— Peggy
Description
---
NAMED A BEST BOOK OF THE YEAR BY THE WASHINGTON POST and REAL SIMPLE

A profound and enchanting new novel from Booker Prize-longlisted author Niall Williams about the loves of our lives and the joys of reminiscing.

You don't see rain stop, but you sense it. You sense something has changed in the frequency you've been living and you hear the quietness you thought was silence get quieter still, and you raise your head so your eyes can make sense of what your ears have already told you, which at first is only: something has changed.

The rain is stopping. Nobody in the small, forgotten village of Faha remembers when it started; rain on the western seaboard was a condition of living. Now--just as Father Coffey proclaims the coming of electricity--it is stopping. Seventeen-year-old Noel Crowe is standing outside his grandparents' house shortly after the rain has stopped when he encounters Christy for the first time. Though he can't explain it, Noel knows right then: something has changed.

This is the story of all that was to follow: Christy's long-lost love and why he had come to Faha, Noel's own experiences falling in and out of love, and the endlessly postponed arrival of electricity--a development that, once complete, would leave behind a world that had not changed for centuries.

Niall Williams' latest novel is an intricately observed portrait of a community, its idiosyncrasies and its traditions, its paradoxes and its inanities, its failures and its triumphs. Luminous and otherworldly, and yet anchored with deep-running roots into the earthy and the everyday, This Is Happiness is about stories as the very stuff of life: the ways they make the texture and matter of our world, and the ways they write and rewrite us.
About the Author
---
Niall Williams was born in Dublin in 1958. He studied English and French literature at University College Dublin before graduating with a Master's degree in Modern American Literature. He moved to New York in 1980 where he married Christine Breen, whom he had met while she was a Master's student also at UCD, and took his first job opening boxes of books in Fox and Sutherland's bookshop in Mount Kisco. He later worked as a copywriter for Avon Books in New York City before leaving America with Chris in 1985 to attempt to make a life as a writer. They moved on April 1st to the cottage in west Clare that Chris's grandfather had left eighty years before to find his life in America. His first four books were co-written with Chris and tell of their life together in Kiltumper in west Clare. In 1991 Niall's first play 'The Murphy Initiative' was staged at The Abbey Theatre in Dublin. His second play, 'A Little Like Paradise' was produced on the Peacock stage of The Abbey Theatre in 1995. His third play, 'The Way You Look Tonight,' was produced by Galway's Druid Theatre Company in 1999.
Praise For…
---
"Comic and poignant in equal measure." —The New Yorker

"Escaping into the pages of "This Is Happiness" feels as much like time travel as enlightenment. Halfway through, I realized that if I didn't stop underlining passages, the whole book would be underlined…. Williams is engaged in the careful labor of teaching us to hear the subtler melodies drowned out by the din of modern life… This is a story about the beginnings of love and the persistence of affection, about the loss of faith and the recovering of belief. If you're a reader of a certain frame of mind, craving a novel of delicate wit laced with rare wisdom, this, truly, is happiness." —Ron Charles, Washington Post

"This big-hearted story is an intimate study of a small place on the brink of change." —New York Times

"An often delightful, rural rhapsody." —Wall Street Journal

"A breahtaking tale… Williams, a Man Booker Prize-longlisted author for his 'History of the Rain,' is a master of Irish storytelling, crafting sentences that tempt the reader to double back and read again - and characters that get under your skin." —The Associated Press

"Warm and whimsical, sometimes sorrowful, but always expressed in curlicues of Irish lyricism, this charming book makes varied use of its electrical metaphor, not least to express the flickering pulse of humanity. A story both little and large and one that pulls out all the Irish stops." —Kirkus Reviews, starred review

"With a beckoning gentleness that belies the deeper philosophies at play, superb Irish author Williams (History of the Rain, 2014) offers a lilting, magical homage to time and redemption, and a stirring, sentimental journey into the mysteries of love and the possibilities of friendship." —Booklist, starred review

"This Irish novel made me deeply happy... The sentences and insights stirred and surprised me on every page." —Chicago Tribune

"A charming, often moving book, enriched by beautifully drawn characters and brilliantly depicted scenes from country life." —Minneapolis Star Tribune

"The beauty and power of Irish author Niall Williams' writing lies in his ability to invest the quotidian with wonder. A truly peerless wordsmith, he even makes descriptions of gleaming white appliances and telephone wire sing…the book is hilarious among its many other virtues. Buy, rent, get your hands on this book somehow and savor every word of it. Its title says it all: Plunging into This is Happiness is happiness indeed." —BookPage, starred review

"Glorious and lyrical prose . . . This novel is a delight." —Publishers Weekly

"This Is Happiness is resplendent with metaphor. It speaks to the vital role friendship and a tight-knit community can play in strengthening the human spirit." —Shelf Awareness, starred Review

"Niall Williams' latest novel should catapult him into the realm of globally fashionable Irish writers." —The Financial Times

"Admirers of Niall Williams' Booker longlisted History of the Rain will not be disappointed to learn that his latest novel is possibly even better." —The Observer

"A kind of tectonic movement from spring into summer, marked by the rhythms of village life . . . He has a humorist's eye, and his own fond amusement at the people he writes about shines out through the writing." —The Guardian

"Williams has the eye of a poet and the raconteur's knack for finding a tale in the most unpromising nook of everyday life." —The Daily Mail

"Wise and redemptive . . . Wildly comic . . . With his silver ear for speech and extreme attentiveness to the Heaneyesque 'music of everyday', Mr Williams treads softly on the dreams of youth and memories of old age. Enjoy!" —Country Life

"[This] enchanting novel recalls rural Ireland on the cusp of change . . . A delightful affirmation of life and love." —Sunday Independent
Free Media Mail shipping on U.S. orders over $50